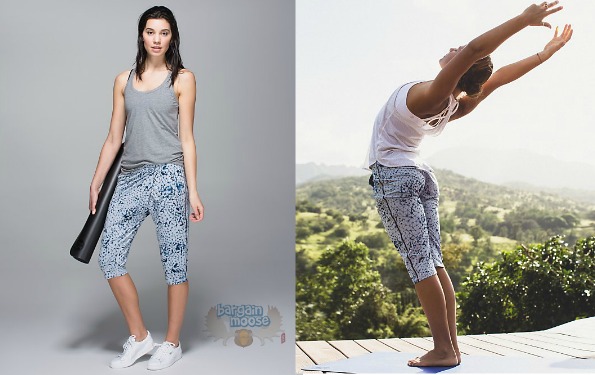 Chill out in these lightweight crops that are perfect for your workout or lounging. These crops were $98, but you can snag them for only $49 now. Completely free shipping is also included with your purchase.
I love all the fun patterns that are available for workout pants lately. It has challenged me to think beyond the basic black pair of yoga pants that have been my go-to item for years. This blue geometric crackle pattern looks like a perfect compromise for a pattern that is not too crazy.  The pattern has several neutral colours, and should look great with a top in grey, white, blue or even something brighter like a fuschia.
These crops are lightweight and meant to move and breathe. The include extra air ventilation down the side. They stretch in four different directions and have LYCRA to help them keep their shape. Hidden away is a secret pocket to stash your key. These crops are super breezy for summertime workouts or a casual stroll in the park. You can pick them up in the following sizes: 4, 6, 8 & 10.
These are a looser fit pair of pants, and you find that reflected in the reviews. Many reviewers are noting that they sized down these pants, as the waist even seemed a bit looser. There are a few people who do not like the style, but the majority are digging their purchase. As my leg muscles are not as sculpted as I would like so sometimes a style that flows a bit more works better on me. Here is one reviewer loving these crops.
As described, these are great crops for a light practice, restorative, or just out walking. I LUV the pockets. Good for around the house, running to the store or for coffee. The draped front and looser leg for work well for modesty purposes, at least they drape well on me, extra material does not get in my way at all, or maybe it is just my attitude when I wear them...either way they are fun and a great length for summer.
This seems to be the way to go for a casual and breezy pair of crops. One of the other reviewers mentioned she wore these to hot yoga, which I think is a fantastic use for these pants. A synthetic like this is much more comfortable. A friend of mine made the mistake of wearing cotton to hot yoga once, and she resembled a steamed dumpling by the time she left!
(Expiry: Unknown)