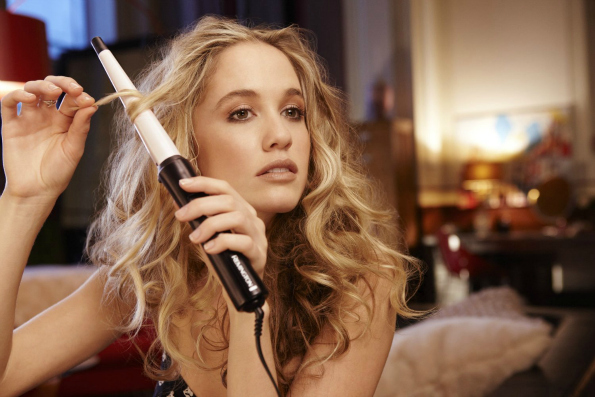 If you are looking for quality, affordable hair tools then look no further. Remington makes some of the best basic, no-frills hair styling tools that just work. For thick and luscious curls, pick up the Remington CI9538BCDN Tstudio Salon Collection Pearl Digital Wide Ceramic Curling Wand on sale from $34.99 down to $25.25. Because this wand is just above the $25 free shipping minimum, you also receive free shipping.
This is a generously wide curing wand that goes from 1" up to 1.5" in a conical style. There is no clip - you merely wrap your hair around the wand and hold for a few seconds while the heat does all the work for you. This wand warms up to 410 degrees, which is salon quality heat. It only takes 30 second to heat up and there is a 60 minute shut off just in case you forget to turn the curling wand off.
I just received a curling wand (different brand) and set about trying it out on my hair. It produced the loveliest curls but I burned my hand in the process. The Remington comes with a heat protective glove so you do not burn yourself like I did - twice. I will be ordering a heat protective glove separately because it did not come with my wand.
This wand is everything you need in a wand and nothing you don't. One reviewer on Remington's website said:
By far, best curling wand. This hairstylist gives a hundred thumbs up. Better than Enzo or any other expensive wand I've purchased. Keeps my thick coarse hair curled all day
Another family said they bought this for their one daughter and had to buy another one because her sister kept borrowing her curling wand. That sounds like great feedback to me. According to CamelCamelCamel - an Amazon price tracker - this is the best price this wand has ever been at.
If you find this wand a bit too thick, then you may want to purchase the Remington CI95AC2CDN Tstudio Salon Collection Pearl Digital Ceramic Curling Wand instead. it was $32.99 and is now $24.50 so you will need to find a filler item for free shipping. This wand has a 0.5" up to a 1" taper, so it will create smaller ringlets of hair. It is not as discounted as the wider version, but you should get the one that is best for your hair. I recommend throwing in a kid's book like Pigs by Robert Munsch for $1.79 to get free shipping. If you don't have kids, simply donate the book for Christmas.
(Expiry: unknown)