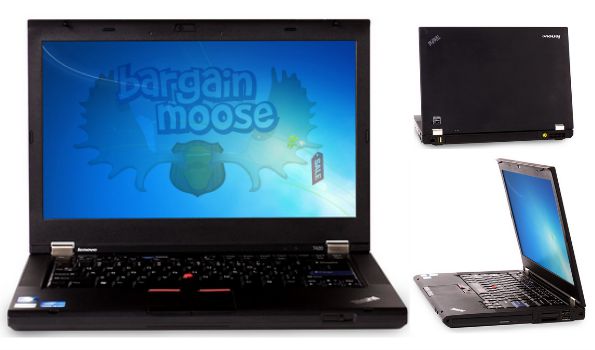 I have had my eye on a new laptop that I can pick up inexpensively, and recently spotted the refurbished Lenovo Thinkpad 420 4GB 250 GB HDD. This refurbished laptop was $335 and is on sale for $273. With our coupon code FREE10, you will only pay $263 plus shipping costs.
This laptop is perfect if you need a light laptop for basic web browsing and word processing.
This laptop includes 4GB of RAM, a 250 GB hard drive, a writeable DVD slot and Windows 7. I would not recommend this laptop for a heavy gamer, but for most casual users using the internet, streaming Netflix and typing up spreadsheets and documents this laptop would easily fit the bill.
We have a coupon code that takes an extra $10 off this great price, but you may also want to try the coupon code FREESHIP10 to your cart. This code can knock significantly more off your order, but I was only able to get the code to work for a Toronto address after trying multiple locations across Canada.
Microsoft Authorized Refurbished Products
You may want to consider whether the company you are purchasing from is an official Microsoft authorized refurbished company, which refurb.io is on that list. After you follow that link click on the refurbisher programs directory. If you click on "Americas" you will be able to select Canada as a region to see all of the companies that are Microsoft authorized for their refurbished products. I recently learned that there are two different kinds of refurbished products, a grade A and a grade B category. The Microsoft authorized refurbishers only accept grade A which means that items were returned due to open box or with minor scratches to the case that are more cosmetic. A grade B level refurbisher accepts items that may need more repairs completed before resale, such as replacing a cracked screen. Checking where that refurbished product is coming from can help you ensure you have a solid purchase.
Shipping
Shipping cost is steep and varies between $17.99 and $19.99 for populated locations. The coupon code does help to mitigate some of that price.  I also feel the included one-year warranty can help give you confidence that your product will be a solid purchase.
Price Comparison
A refurbished version of this laptop costs $296.10 at Staples Canada and includes free shipping but only includes 90 days of warranty. I noticed Staples Canada is not on the list of Microsoft authorized retailers above. It is possible this product has had more major work done and may explain the price drop. You can pick up this refurbished laptop for $329.99 at Newegg.ca plus an additional $9.99 in shipping costs, bringing the total to $339.98 before taxes. This refurbished laptop costs $389.99 at TigerDirect.ca. Shipping costs for this item vary based on your location but looks like it is about $12 for populated areas. Both Newegg and TigerDirect are listed as official Microsoft Authorized refurbished companies.
With a year of backup warranty, this laptop is a solid purchase. I have reviewed several refurb.io products and am always impressed with their commitment to their customers. I would take a chance on these guys as refurbs are their specialty.
(Expiry: Unknown)