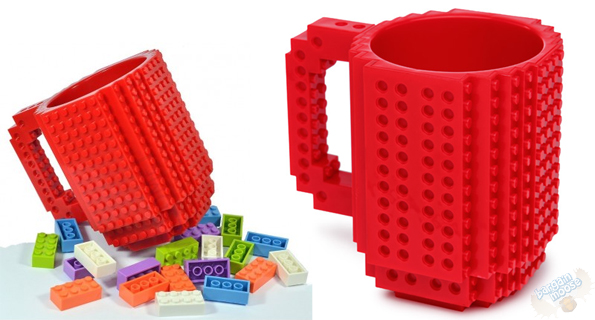 A couple of days ago, Brooke posted a deal on this Build-on-Bricks coffee mug from Maddeal here, and the price including shipping was coming in at around $22. At the time of writing, it was the best deal that we could find… but a Mooser in the comments mentioned that they were also on sale at Amazon.ca. I was browsing over there this morning and I actually noticed one seller retailing the red version of the funky mug at an even better price – it's now only $17.14 with free shipping (that's 70% off)!
When you click through the above link, you should see the Amazon seller "AiChi" named on the right hand side, like this:

If you DON'T see this, please make sure that you click the "X new from $X…" link on Amazon and choose a reputable seller such as Promart or AiChi. If the seller happens to change at any time between the publication of this post and you reading it,  I noticed one seller on Amazon.ca which only had a 1 star rating with 0% positive feedback – make sure not to choose that one! But there are a few reputable vendors selling the Build on Bricks mug for $17.14 with free shipping – choose any one of those.
Please note that nowhere in these listings do the sellers refer to this item as LEGO – the Build on Bricks mug is not LEGO branded, as far as I know. But it IS LEGO compatible, meaning that it's a good fit with all your LEGO bricks. You can stick as many LEGO mini-figures on to it as you want! Over on ThinkGeek, here's the compatibility list of bricks which will work with this mug:
LEGO
PixelBlocks
Mega Bloks
KRE-O
K'NEX Bricks
I definitely want one of these!!!
(Expires: Unknown)