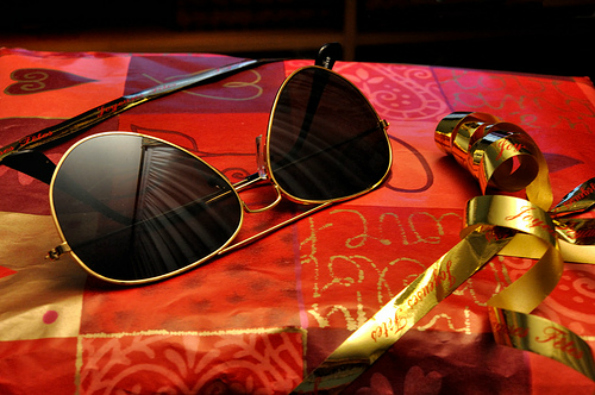 Ray Ban is like the KING of glasses and sunglasses. For this Black Friday Weekend, the official Ray Ban website is offering 30% off your order (discount taken at checkout) and free express shippingand free returns (if things don't work out). This is a rare offer from Ray Ban and you only need to register with them to score this discount.
Everyone knows the Original Wayfarer Classic. It is Ray-Ban's signature style that is worn by celebs all over Hollywood. I swear, it is like you must own a pair of WayFarer sunglasses to qualify as a legit celebrity. These glasses run $195, but you can pick them up for $136.50 after discount. These are authentic Ray-Ban - you are not running the risk of buying knockoffs.
Do you want the other famous Ray-Ban design? If so, then you are probably thinking of the Aviators. This classic design makes you look 100% cooler in your leather bomber jacket with a scarf loosely hanging off your neck. A pair of Aviator Classics will run you $190, which comes down to $133 after the extra discount for registering.
Personally, I like more of a rectangular shape for my face. I find that shape of sunglasses looks the best on me. I found these RB4115 Sunglasses in classic green for $120. After discount, they come down to just $84. That is a lot closer to my current sunglasses budget and it is for a pair of Ray-Bans to boot. I think these might end up in my cart.

Ray-Ban also makes sunglasses for children. I know that investing in a pair of sunglasses for your kid is like throwing money away with how frequently they loose and abuse them - but a quality pair of Ray-Ban sunglasses might be a great idea for an older, more responsible child. These Wayfarer Junior Sunglasses are just $71 in three colours. After the extra discount, they come down to $49.70.
There are many different shapes of sunglasses available that suit different shapes of faces. I prefer rectangular, but you may like round or square. Ray-ban has a set of sunglasses for everyone. If the sunglasses you order do not work out, then you can return them - for free. This is a no-risk purchase, which is my favourite kind! Make sure to register an account with Ray-ban to get 30% off your order.
(Expiry: 30th November 2015)