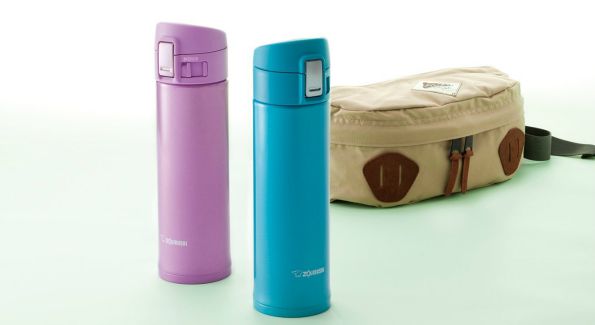 If you have been looking for the perfect travel mug for both hot and cold beverages, then you need to consider the Zojirushi Stainless Steel Travel Mug. Regularly $47.04, the price on the marine blue mug has just dropped to $36.43. Free shippingis also included with this deal.
We Canadians take out hot beverages seriously and need a mug that can stand up to extreme temperatures in the wintertime. If you have tried the Contigo mugs and want the next step up, you need to pick up the Zojirushi Stainless Steel 16 ounce travel mug. These mugs do not go on sale very often and are hard to find in Canada. You should act fast now so your tea or coffee is hot even in the middle of winter.
If you are not familiar, Zojirushi makes an amazing line of restaurant-quality coffee carafes, bread machines, rice makers and other high-end cooking products. These folks know hot water which is why these stainless steel mugs are so amazing at keeping your beverage hot. Zojirushi takes things seriously and has a five-year warranty on the heat retention for this mug, which tells you this is not a mug you are only going to get one season out of. This mug will accommodate cold water also, and includes a wide opening for ice cubes in the summer. The push button system disassembles for easy cleaning, and the lid vacuum seals down to avoid spills and leaks. This is the bottle you can throw in your book bag or gym bag and not have to worry about finding a soggy spot later. This particular model is stainless steel but does have a nonstick coating inside.
Cookware Canada carries similar Zojirushi mugs, but you can expect to drop $70.56 there! You could pick this up at REI.com in the states for $38.95 (USD), but shipping to Canada is $19 and you will also be responsible for duty fees. Nowhere else in Canada seems to be selling these mugs except Amazon.ca.
The reviews on Amazon are expansive, with many folks going into great detail about their love for their mugs. It is not often you see such lengthy positive reviews for a simple product like a mug. Reviewers are noting that the mug is made smartly and keeps that beverage both really hot and quite cold.
Shipping looks like it comes from overseas. The company selling this item on Amazon.ca has Japan in their name, which combined with a September arrival date tells me it ships from across the pond. I think this is the only way you can get a fantastic mug like this one at  this kind of price. It will be a little bit of a wait, but should arrive just in time for fall.
If you are not familiar with this brand, you should give it a try. These mugs do not go on sale ever so now is the time to act. Consider the ability to be able to combine your summer water bottle and your winter coffee mug, it's fantastic. You now have two mugs in one. Amazon prices have been fluctuating so if you want it, grab it while the price is good!
(Expiry: Unknown)