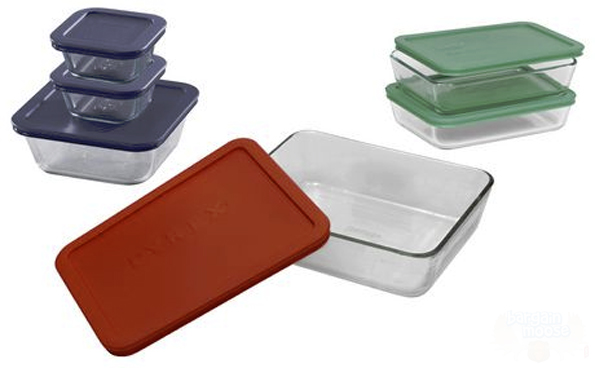 I spotted this Pyrex Simply Store 12 piece storage set in the rollback sale at Walmart.ca online. It looks like a good product with a good price reduction – this storage set was $24.97 and has been knocked down to only $14.94 as well as free shipping to your home.
Walmart are also offering the 10 piece Pyrex set for $19.97, so you can see that with the rollback pricing, the 12 piece set is a far better deal.
The Pyrex 12 piece storage set could be a good addition to the kitchen. When I first glanced at it on the Walmart pages, I didn't think it was very hot because I thought all the containers were plastic. But of course they're not, they're all Pyrex branded, so they're made from glass. In my opinion, it makes it a great deal for some extra kitchen storage. The Pyrex set actually contains the following:
2x 1 cup/250ml square with blue lid
1x 4 cup/946ml square with blue lid
2x 3 cup/750ml rectangular with green lid
1x 6 cup/1.5L rectangular with red lid
There's only one review on the Walmart site, stating:
Great product for microwave use. Not a fan of the green colour though
Well, if the colour of the lid is the only thing to quibble about, then I'd imagine that's a happy customer.
I find that many of the plastic containers that I use can get stained and worn quite easily. One of my speciality dishes is a stonking Burmese chicken curry… I can still see the yellow turmeric stains on my hands from cooking it yesterday. But the curry leftovers inevitably stain the plastic Tupperware containers too. This would not be the case with this glass Pyrex storage set mentioned above.
To price compare this kitchen accessory, a similar 12 piece Pyrex set at Home Hardware is coming in at $30. And a set with only 10 pieces is $24.49 at Amazon. Walmart wins!
(Expiry unknown)