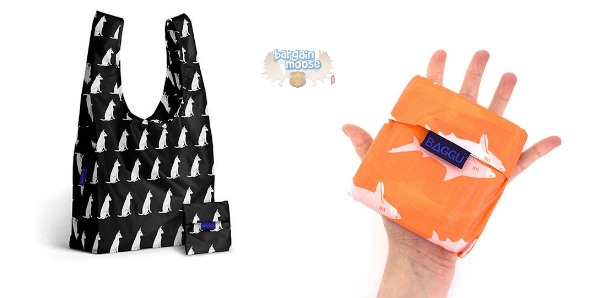 Head over to Pursebox's website and claim your free Baggu designer shopping bag. You'll have to pay for shipping, which is $7.95. Alternatively, you can spend another $99, get your free shopping bag and free shipping on top.
These bags look awesome. Use these bags when you go shopping or need to carry something and don't want to be traipsing around with a plastic bag. These actually look chic, but do a great job at holding groceries, clothing, or whatever else you'd like them to hold.
I actually use bins for my groceries, but sometimes when I'm only getting a few things, I'd rather use a bag. I would totally carry this Baggu bag around with me while I got groceries, or even for shopping at the mall.
There are a ton of styles available for this deal, with a regular price of $12. The dog, the jade elephant and the sailor stripe are all my favourites. I'd get all of them, but it looks like there is only one free per order. It lets you add more to your cart, but tells you your order is not valid.
These bags hold up to 50lbs, are ethically made in China and guaranteed for up to a year. It also folds up really neatly to a 12cm pouch.
I thought, hey why not look at some new purses on sale? If I can get this little freebie and save the shipping, of course I could use a new purse on top. This Lug Taxi Cab tote is amazing! I love that it has all those little pockets and the strap on the back that makes it ultra easy to carry it with your suitcase. I travel a bit, so this would be a lifesaver! Regularly $79, it is now $59 and sells for $79 on Amazon and other Canadian sites.
This little Marcia Made It "Make Love Not War" pouch is great for makeup, school supplies and so much more. It would also make a great gift. Regularly $28, it is now $19.
You could take a look at Pursebox yourself, see what you'd like to get for $99 to save shipping or pay the $8 fee. If you sign up for their newsletter, you'll also get a $5 off coupon for your order.
(Expiry: Unknown)