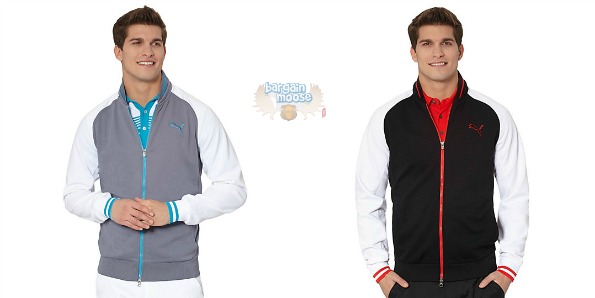 With Father's Day this weekend, you might be scrambling for that "it" gift for Dad or the father of your children. Well, I think I found it for you! Right now Puma has an awesome coupon code out that will get you $25 off every $75 you spend. You read that right - $25 off every $75 using code DAD2015. This means that if you spend $150, you'll get $50 off and if you spend $225, you'll get $75 off and so on! I found this men's golf track jacket that is already discounted from $117, down to $82. Add the coupon code and watch your price slide right down to $57 and you'll also get free shipping on every order!
Just a reminder that Puma does ship from the U.S. and all prices are in USD, but that all duties and such are paid at checkout and usually turn out to be very affordable!
This golf track jacket is something that would be perfect for my husband who loves to golf and loves to look good. He doesn't have enough jackets that aren't pullovers, so this stylish little piece will be great for a day out on the links. Puma even bills it as a jacket that will distract all your friends so they hit the ball out of bounds. Maybe, who knows?
I really like the folkstone gray and white with the blue accents, but in our house, white seems to get stained the second it comes near us. It is like the spaghetti sauce sees white clothing on one of my family members and jumps right out of the pot on to it. Seems unlikely but you really should hear my stories.
The black and white with red accents is quite classy as well, but just a little bit of a different price. Regularly $130, it is on sale for $91, making it $66 after coupon. I think it is worth it if you prefer darker colours.
Checking out other golf jackets, Sportchekdoesn't have one under $80 and some are up to over $200. The only other spot I found this exact jacket was on Amazon.com in a not too flattering purple. It is on sale for $72 there.
(Expiry: Unknown)