President's Choice has a great offer available right now involving a product you don't find deals for that often: iTunes cards.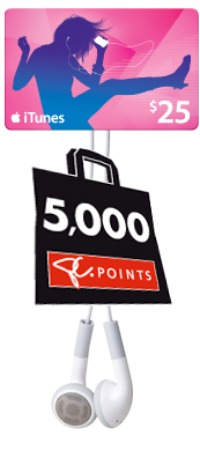 If you buy a $25 or more iTunes card with your PC Master card at any Superstore or other such place you will receive a bonus 5,000 PC points back, which is equal to $5. This is a good offer because you are getting approximately 20% of your purchase price back in points that you can redeem towards things like groceries or more gift cards in the future.
This offers goes until February 28th. It is a good way to get an additional deal on the music, movies, games and apps you download. Unless you are like me and risk buying cards from other people (which btw, my second attempt was a success!) this is one of your better ways to get something back on your purchase.
I am probably going to get one the next time I am at Superstore. It beats trying to buy them of other people! :-)