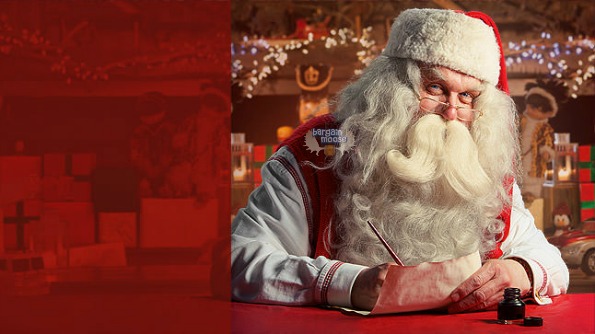 Have you heard of Portable North Pole? If not, you are going to love it? Pre-order the premium version and get 25% off, plus you get to see your video before anyone else!
I've used PNP for a few years now to send my kids personalized messages from Santa. They love having Santa send them a message and it gets them in the spirit  (read: makes them clean their rooms). There is a free version, and this is the only one we've used, and although it is good, they only mention the child's name and what he/she likes (and that is a generic term). The free option is still fun and worthwhile for those who don't care about the extras.
But, if you do want some extras here is what you'll get on premium vs. free.
More than 5 minutes of brand new video footage
Additional scenes not included in the standard video
Variety of scenario choices
Add up to 5 personal photos to the video message
Receive a second bonus exclusive video of Santa riding his sleigh
Receive a personalized phone call from Santa
The best part I see up there is the phone call from Santa! What kid wouldn't want a real-life call from Santa himself? I know my older two are already skeptical of mall Santas, so this might make them believers again.
The new site is launching in November, but if you order now you'll save 25%. When I tried to pre-order, the cost was $4.99. I'm going to assume this is the after 25% off amount.
Not just do you get all of this fun stuff, a portion of your payment ($0.25) goes directly to a Children's Hospital near you! It is the gift that gives back.
(Expiry: Unknown)