Ah, do you remember having one of these toys as a kid? Right now you can shop at Amazon.ca and snag one of these classic Playskool Favourites Lullaby Gloworm Girl for just $9.97 which is 50% off the regular price. Spend $25 to get free shipping, but if you have Amazon Prime then you will get free shipping either way.
Here is a blast from the past for sure! This toy was actually in the 1985 Sears Wish Book, so it has been around for over 30 years. Don't be afraid to click that link and take a look at the old Sear Wish Books for yourself. Either way, this is an excellent price for such an adorable little toy. Unfortunately only the pink version is on sale, but keep your eyes opened for the blue version in the future. Amazon Canada has this toy priced at $9.97, which is the best price you're going to find for this cute and classic Gloworm. Take a look at what other Canadian retailers are selling this toy for:
$19.99 @ ToysRus.ca
$19.99 @ Sears.ca
$18.94 @ Walmart.ca
This toy might be just what your little one needs to help them fall asleep at night. The Lullaby Gloworm is easy to squeeze and will sooth and comfort your little one right into dreamland. I had one of these as a child and I can admit that it was pretty much dragged around everywhere I went. I never thought that I would be able to see my own child enjoy the very same toy, so I am glad to see that these Playskool Gloworms are still around. Plus, you can now snag this pink one at an unbeatable price. I can't wait to see the blue one go on sale too. At least the new version doesn't look as creepy as the "old-school" Playskool gloworm. Looking back, I wonder how I found that thing comforting. Of course these toys light up or "glow" when your child squeezes them.
Here is what the 1988 version of this toy looked like: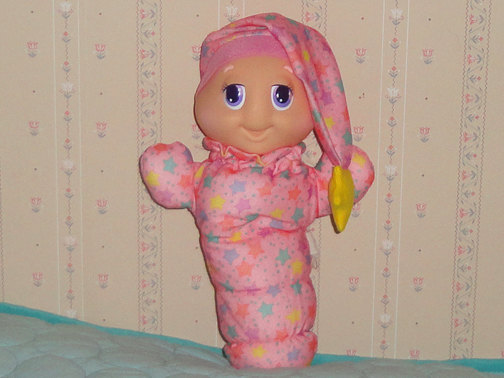 This item is shipped and sold by Amazon Canada, which means it will definitely arrive in time to be wrapped up and put under the tree as a Christmas gift. Amazon Prime members will receive free shipping, otherwise you will need to spend $25 to get your shipping & handling fees included in your purchase.
(Expiry: Unknown)