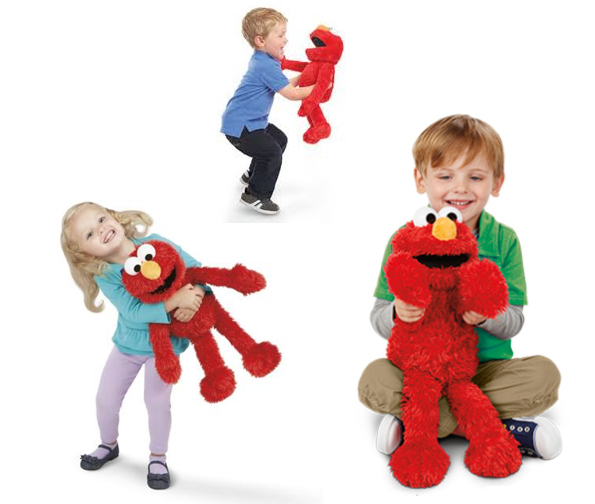 Amazon is having another one-day Lightning Deal, this time on a beloved classic: Elmo! Recommended for ages 18 months to 4 years, Play All Day Elmo has two modes of play; one for toddlers and another for preschoolers. He features 8 games and more than 150 activities to keep your little one busy for hours.
Our little guy is just a year old but I'm considering this for him anyway because it looks like so much fun! Who doesn't love Elmo?
Regularly $79.98, you can purchase this interactive Play All Day Elmo for 53% off! He's just $37.49. In toddler mode, Elmo engages your child in basic cause-and-effect play. They can tickle Elmo or squeeze his nose and see what happens!
Preschool mode encourages older kids to play games and activities such as: 
Hop and Count
Pat-a-Cake
Freeze Dance
Animal Sounds
Elmo Says
Color Guessing
What's Up in the Sky
Red Light Green Light
Elmo's sensors help him respond to different activities in fun ways; he'll react when tossed in the air, when he's upside down and even when he's moving and grooving.
Of course, Elmo is not just good for fun. When playtime is over, your little one can cuddle with him while listening to a lullaby. When nap time is over, just move his switch from 'Nap' to 'Play' mode and start the fun again!
Play All Day Elmo has been marked down at Walmart as well but just to $49.94. He's selling for $49.97 at Toys R Us. Get him quickly at Amazon Canada for only $37.49.
Don't forget: 4 AA batteries are required. They note that he comes with demo batteries but those don't last very long so it's always good to have spares on hand.
(Expires: 19 December 2015)