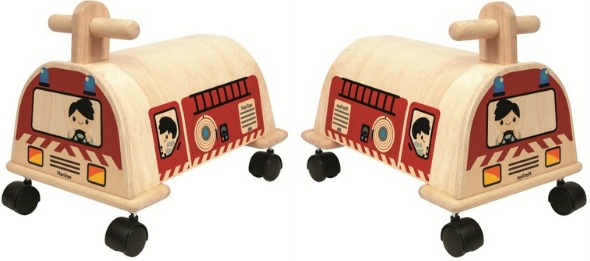 I love the toys made by Plan Toys. They almost remind me of the toys from years and years ago - except maybe a little safer for kids? This Plan Toys Ride-On Fire Engine is a great example of the toys made by Plan Toys. Plus, it is on sale from $89.99 down to just $49.99. This is part of the Well.ca Boxing Week Sale. You'll also get free shipping.
This Plan Toys Ride-On Fire Engine is great for little boys and girls. It has a stable base, a sturdy handle and even a storage compartment. Your toddler will easy ride around and make tight turns with this nifty ride-on toy. Plus, you're getting a high quality item for a lower price than the low quality ride on toys. Win, win - right?
This same toy sells for $89.99 and up at other retailers like Amazon Canada and Mastermind Toys. So you really are getting a steal of a deal here. This toy is best for ages 12 months and up, but I am sure children over the age of 3 are going to be too big to fully enjoy this wooden fire truck on castor wheels.
Plan Toys are known to last for years and years though, so you can bet that your child can hand it down to their younger sibling when you decide to have more kids. It is constructed with high quality materials like rubber wood and then it is coated with a non-toxic finish. Even the colours are all made from vegetable dye.
Ride on toys are great for many things. They give your child something to entertain themselves with, and they also teach good balance and strength. But please, Moosers, keep a close eye on your child when they are playing with this toy. Even with the safest of the ride-on toys like this Plan Toys Ride On Fire Engine, it is so easy for kids to accidentally bump into something or ride down the stairs.
Well.ca offers free shipping on all orders over $29, so this item automatically qualifies for included shipping and handling charges. That just makes the deal even sweeter, doesn't it?
Moosers, do you have any Plan Toy items in your home?
(Expiry: Unknown)