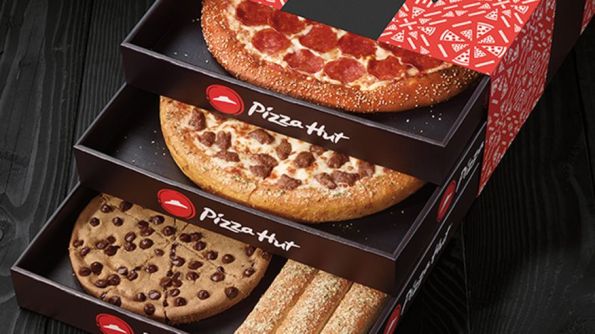 After a long day of Christmas shopping or Christmas baking, the last thing I want to do is cook dinner. While I was browsing around for pizza deals to feed my family tonight, I came across this Pizza Hut deal that sounds pretty fabulous. You can get the Triple Treat Box for just $32.99 from your local Pizza Hut Canada.
The Triple Treat Box is definitely enough food to feed my entire family and then some. I love leftover pizza too, so I am definitely going to grab this offer for dinner one night this week. You can order this Triple Treat Box online at PizzaHut.ca or order it at your local Pizza Hut Restaurant, whichever you prefer. If you have a family of three or four, this is going to be more than enough food to keep everyone happy. Plus the dessert sounds dangerously delicious. 
So what exactly is included in the Triple Treat Box? Have a look:
2 medium pizzas
8 boneless bites
regular breadsticks
2 dips
Ultimate Hershey's Chipits Cookie
When it comes to the 2 included medium pizzas, you can select a recipe pizza or even create your own. So you don't have to worry if you have a picky eater, you can select whichever toppings you like. When you click through the link above you will then be prompted to choose recipe pizzas or create your own pizzas. Both options are the same price.
My son really only likes cheese pizza, but I like more interesting toppings. So I would order one of the pizzas as just cheese and then get the second pizza with my toppings of choice. I like green olives, bacon, and mushrooms for sure. Yum! I am drooling just thinking about pizza night this week. The Ultimate Hershey's Chipits Cookie is to die for. I have had it once, and have not let myself have it again since. That would be super dangerous for my figure. I was tempted to order Pizza Hut just for the cookie for quite some time. How can they expect me to share it, seriously? Get in my belly little delicious cookie!
(Expiry: Unknown)