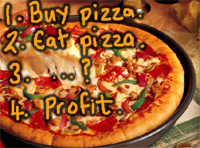 I'm a pizza monster! OK, I don't eat it often, but when I do, I just can't stop until it's all finished. Perfect pepperoni… marvellous mozzarella… tasty tomato sauce… making my mouth water! Right now, Pizza Hut have this deal on pizzas for ordering online.
Buy 1 large pizza, then you can buy up to 3 more medium pizzas for only $5 each! If you're getting a few pizzas for a family dinner, or you have a few friends around, then just make sure there is a large pizza in your order, and claim the $5 deal. I'm not sure when the deal ends, but it's advertised on the splash page on the PizzaHut.ca website right now.
OK, I better go eat something; blogging about this pizza deal has made me hungry. HUNGRY!