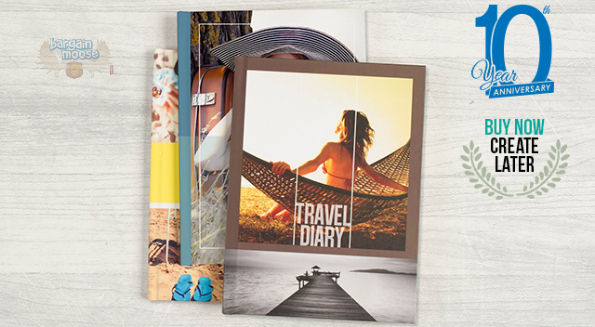 Today only, Photobook Canada is selling vouchers for their 8" x 11" Medium Portrait Imagewrap Hardcover photo book. This photo book usually retails for $55.99, but the voucher is now on sale for $10 with tax included. This is approximately 82% off the original price.
We have posted photo book deals before, but this is a little better than previous deals. In the past we have seen this exact book discounted to $22 a few times. Except for the odd freebie deal (very short lived), I have never seen this size of hardcover book this cheap.
This book comes with 40 pages of premium silk paper. You can increase the total number of pages up to 300, but you will most certainly pay extra per page added. The 8" x 11" medium portrait image wrap hardcover books are my favourites. They work well for family portraits and I already have two books in this size from Photobook Canada.
As with most of Photobook Canada's deals, you buy the voucher now and then have several months to use it. This voucher expires on the 15th August 2015. That gives you plenty of time to compile your book. Maybe it will be about your summer holidays, your child's graduation, or a road trip you have planned to visit some relatives. Perhaps, Canada Day is a big time for your family so you will make up a Canada Day memories book.
The $10 you pay includes the equivalent of 13% taxes so there are no added taxes. The only thing you need to pay is shipping. Unfortunately, shipping is a bit high ($11.99) but you will find this is true for most Photobook companies these days. You save so much on the book that you are still only paying $22, - which was the cheapest I had seen the book - without shipping - previously.
This is part of Photobook Canada's Anniversary sale. It is their 10th anniversary so they are offering 24-hr deals on the 10th of each month. It is just coincidence that this sale fell on Mother's Day this year. You could always buy your Mom a nice voucher and document her day through photos. Later, when she least expects it, you can send her the completed book to cherish.
(Expiry: 10th May 2015)