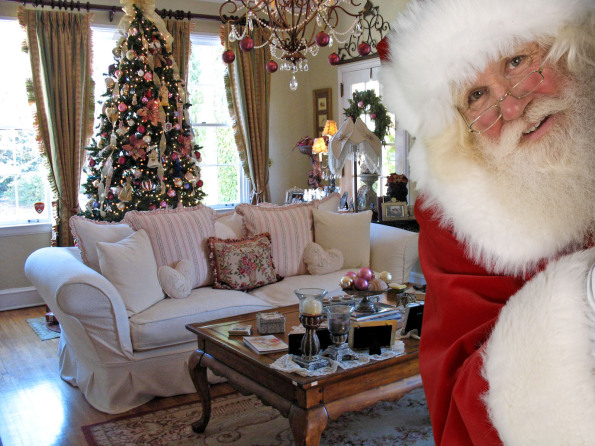 Seeing is believing, right? So why not create a photo of Santa in your very own living room? I didn't know that was possible until about a week ago. I stumbled upon this Capture The Magic website where you can superimpose Santa into your very own living room photo with just a few clicks. The results are marvelous and will cost you as little as $3.95 USD.
It is super easy to get a photo of Santa setting out some gifts in your living room. Your kids will be so excited to see the photo Christmas morning! Simply upload your photo of your living room or wherever. Then you will be prompted to the editing page where you can select which Santa character you want to add to your photo. There has to be over 100 different Santas in different poses, so you can really make the photo look real.
Once you are happy with your photo, you will be prompted to the check out process where you can download your photo and pay. CaptureTheMagic.com will accept all major credit cards only. Once you have paid, you can download or print your photo. You can download it right to your Smartphone device so that is looks like you snapped a pic of Santa by the Christmas tree with your iPhone.
So there are a few different plans to choose at the check out process. The plans include:
$3.95 USD - Create one photo.
$9.95  USD - Create up to 3 different photos. Use them all at once or on three separate occasions.
$29.95 USD - Annual subscription. Get unlimited photos for Christmas, Easter, etc with this option.
So if you just want one photo of Santa this Christmas, it will only cost you $3.95. There are different Holidays that you can use Capture The Magic for though, so you may want to purchase a multi-photo package for the most enjoyment. The annual subscription sounds like a lot of fun. You can capture a photo of Santa, the Easter bunny, the tooth fairy and more. They are even working on adding more Holidays and mythical creatures.
Moosers, would you use something like this to get the kids excited?
(Expiry: Unknown)