Paw Patrol is such a popular theme this year and Sears Canada is a great place to pick up some odds and ends. They currently have three Paw Patrol Tummy Stuffers on sale from $29.99 down to $26.99. Use the following coupon code to take an extra $10 off - bringing each Paw Patrol Tummy Stuffer down to just $16.99 when purchased separately. There are three Tummy Stuffers Paw Patrol Plush Organizer Sacks to choose from in this sale: Marshall, Rubble, and Sky.
Click here to purchase the Paw Patrol Sky Tummy Stuffer @ Sears.ca now
Click here to purchase the Paw Patrol Rubble Tummy Stuffer @ Sears.ca now
Click here to purchase the Paw patrol Marshall Tummy Stuffer @ Sears.ca now
This is the coupon code for an additional $10 off $25+ today only:
Coupon Code: 941612495
Discount: $10 off $25+
Expiry: 1st December 2015
Toys R Us Canada has these for $29.99 each but they are already sold out. If you want more than one Paw Patrol Tummy Stuffer Organizing Sack, then you should place separate orders for each so that you can use the coupon code more than once. All three plush are in stock right now (I checked!) and the coupon code works beautifully at the last stage of checkout: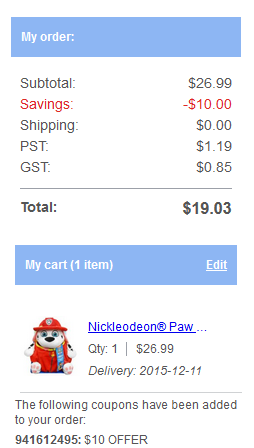 Sears Canada offers free shipping to over 1300 Sears Outlet and Sears Store locations across Canada. That is why shipping is showing as $0.00 in my cart - I always select free shipping to my local store as it is only a short drive away.
You may be curious as to what a Tummy Stuffer is and I will tell you.  These are adorable plush bags that encourage kids to put stuff away. The more your child stuffs into the mouth of the tummy stuffer, the larger the tummy stuffer grows. This Bag is not only a great place to store toys clothes, and more... it also makes a soft and comfy pillow.
I think these are the cutest things ever. I love the idea of toys that encourage children to put stuff away and organize. I also like toys that pull double-duty - that essentially have two uses in one. Your child could just use this plush sack as a pillow (try stuffing it with socks) or they could use it to put away all of the Paw Patrol toys they will be receiving for Christmas. Either way, this makes a great gift at a great price!