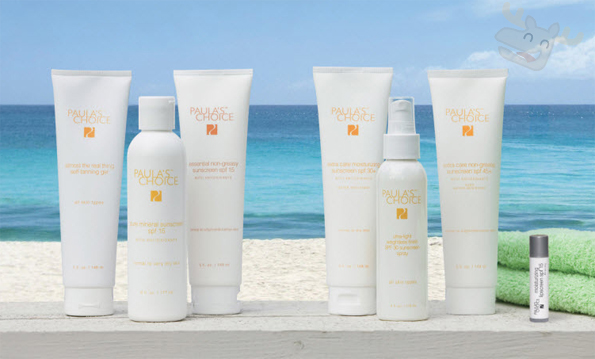 Paula's Choice is an incredibly popular skincare brand which we've mentioned before here on Bargainmoose – they're US based but DO ship to Canada. I found out that starting a few days ago, they're doing free international shippingon all orders and that includes orders to Canada. Plus, if you spend $5 or more, you have the choice of three free samples. While these two things sounds pretty good in and of themselves, I dropped them an email and lo and behold, Paula's Choice are giving the Moosers an extra 10% discount on top of all that!
Click here to use the Paula's Choice coupon code online now
CouponCode: AMMOOSE10
Discount: Extra 10% off regular priced items
Expires: 15th August 2015
When I was testing out this deal to see if it worked, I threw this toner in my shopping cart, at a cost of $20. Here in this screenshot, you can clearly see the choice of 3 free samples as well as the extra 10% coupon code being applied: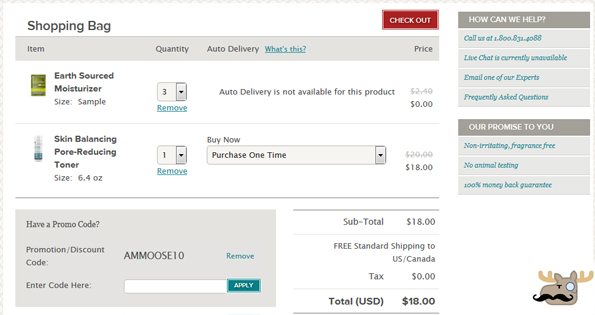 While I was messing around in my cart, I also noticed that for all the samples, you can actually choose to pay for those if you put some more in your shopping cart. This is actually a great idea if you want to try out some more of their products. You don't even have to buy any full-size products from Paula's Choice – you can make an order made up entirely of samples! If you make an order of just samples, three will be free and you have to pay a small fee for the rest. But here's a savvy tip for the Moosers – compare the sample prices to the full-size prices to see how much of a bargain you can get.
Let's take this Skin Balancing Ultra-Sheer Daily SPF 30as an example. To buy a packet, it will cost you $0.80 (or $0.72 with the coupon above) for a 0.05 oz sample – therefore this is a cost of $14.40 per oz. The full-size product is $25.20 (after coupon) for 2 oz, which works out to be $12.60 per oz.
The Clinical Ultra-Rich Soothing Body Butter costs $16.15 for 4oz, which is $4.04 per oz. The $0.72 sample works out at $6 per oz. With these examples, you can clearly see that you are paying more per oz when you just order the samples – but sometimes they're handy to have.
To be honest, I love getting little sample packs of lotions and potions like this. I either use them myself, or I keep a stash of them in my present cupboard. I then pop them in as little gifts when I am making up birthday presents for friends and family.

Conclusion
Here's a roundup of what you can take advantage of with the above deal:
FREE shipping on ANY order
3 FREE samples on a $5 spend
Extra 105 discount with coupon
Has anyone used any Paula's Choice items? What do you think of them?