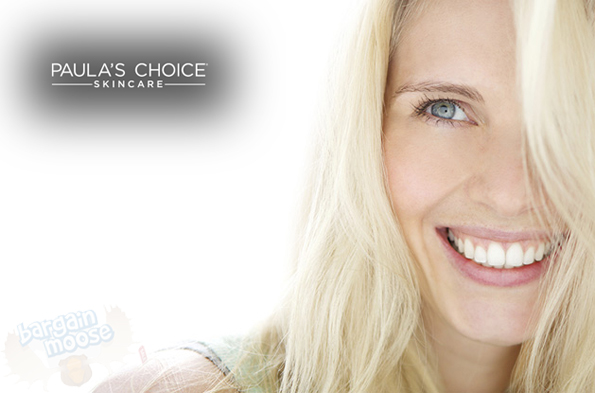 Paula's Choice, the US based skincare specialist, is a store we've mentioned here on Bargainmoose a few times, mainly in our coupon roundups. I don't think we've done a dedicated blog post yet though… and I saw a deal this weekend which would be a good way to introduce them to the Moosers. I got an email to say that this weekend, they are offering a 20% discount on all items on their site to celebrate their double decade anniversary. And they are also offering totally free shipping to Canada, with no minimum spend required. This is pretty good – but guess what! We have an exclusive coupon code that you can stack on TOP of that deal! Ever hotter, eh?
Our Exmoosive Coupon
A little while ago, Eva set up an exclusive Bargainmoose coupon code for our coupon page here, to get an extra $5 off a $35 spend. I tried the exclusive coupon code (AMMOOSE5) wholly expecting it NOT to stack on top of the automatic 20% discount and free shipping. But lo and behold, it also worked!! Here's a screenshot of the shopping cart where you can see the double discount in action: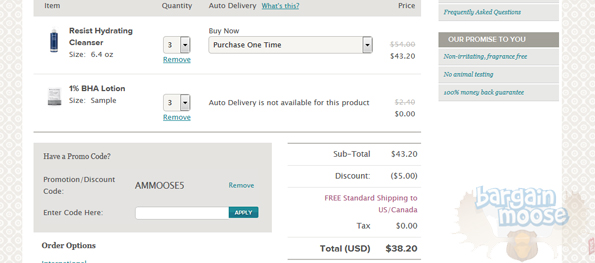 3 Free Samples
As well as the above coupon stacking offer, you can also choose to add 3 free samples to your cart. When I did so, I tried it on some BHA lotion which you can see in the screenshot above. It was only stated as being worth $2.40, but a freebie's a freebie!
Free Shipping / Customs Etc
All orders also get free shipping to Canada, that's included in this deal. What about customs and duties, I hear you ask? Well, this is what they say on their customer services page:
To ensure your order arrives quickly and sails through Customs, all Canada-required import duties and taxes are calculated at checkout, so you don't have to worry about paying them later.
This is great news – it means you can see exactly how much you will be paying and you don't have to worry about anything else. For example, on the above order, I proceeded on through checkout to see how much it would come to. There was the usual calculation of tax, plus a Canadian brokerage fee of $5 which was a bit of a pain in the ass. But $5 isn't too bad… not too bad, at all. You could say that our exclusive $5 coupon covers that for you. :)
Conclusion
In conclusion, here's a roundup of what you're getting with this deal:
20% off any items
$5 off $35
3 free samples
Free shipping
(20% offer ends 22nd June 2015)