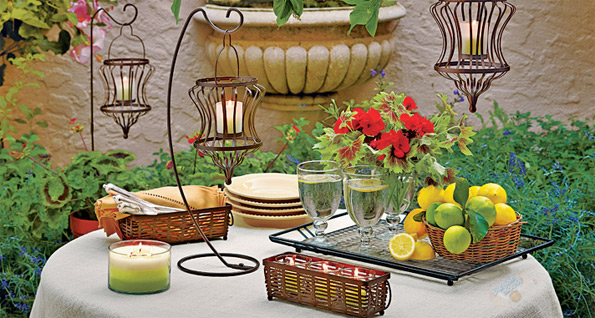 Partylite is having a wonderful sale on their candles and accessories. If you wish, you can have a show in your home, but it must be held before June 24th. If you would rather just order online, check out the PartyLite website. This excludes special priced items and quantities are limited.
I have personally attended many PartyLite home shows and I am crazy about their candles and candle holders. My absolute favorites are the tealights and there is a special on for the month of June. With a minimum $50 order, you can get 2 dozen tealights in 1 or 2 fragrances for only $12. The regular price is $12.50 per dozen, so you are saving over 50%.
Another exciting item is this 3-Wick Bowl, available in 6 fragrances and from now until June 24th, with a minimum purchase of $50, you can buy one for only $15, regular price $32. I love these 3 wicks, they burn forever and they smell wonderful.
There is also a sale on votive candle packs for Canada Day until June 30th. For just $25, you get five 6-packs of votives, regular price is $46 and this can be used toward your $50 minimum purchase for other deals.
I really could go on forever about this sale, since these are one of my most favorite items, but you should just check it out for yourself at Partylite.ca.
Shipping: Delivery within 2-3 weeks and charges are: $8 for orders up to $80 and 10% of order (up to a maximum of $17.50) for orders over $80.
(Expiry: 24th June 2012 on Summer Fun Sale / 30th June 2012 on Canada Day Sale)