I'm wouldn't normally even mention cars or anything car related whatsoever, but this is a pretty decent offer, and worth pointing out to those of you with interest in that kind of thing! Between the 23rd and 29th of March 2009, if you spend $35 or more in-store @ PartSource Canada, they are giving out a free Revive Fuel System Treatment with your purchase! This product is apparently worth $10.99.
Click here to see the Part Source store locator
I'm not even sure what revive fuel treatment is… But if you need to spend a few dollars on items for your car, then you might as well get the freebie. I think my OH says we need some oil and distilled water, bits and pieces like that, so I'm going to let him know about this offer too.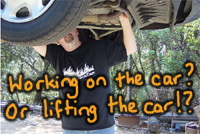 So my little car is leaking oil all over the drive. Apparently I need a new oil pan. Whatever that is!? I hate spending money on car repairs… it feels like throwing money away. I just want a car to get me from A to B, I don't want to have to spend money on maintaining it!! ?! Maybe if I'd used Revive Fuel System Treatment, my car wouldn't need a new sump… ? !
Thanks _MichaelK_.