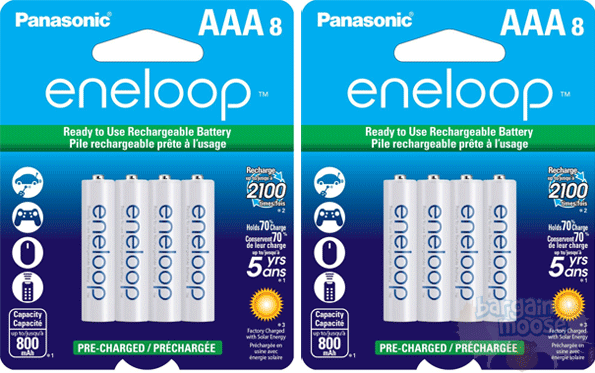 If your household is anything like mine, then you also go through A LOT OF BATTERIES. If you need to stock up on a few rechargeables, being friendly to the environment and all that, then check out the deal on these Panasonic Eneloops. You can get a pack of 8 triple As for only $20.99 at Amazon Canada!
If you have Amazon Prime, then you're all set to get these Panasonic BK-4MCCA8BA Eneloops with free Canadian shipping to your home. If you aren't a Prime member, then you only have to top up your order by another $4.01 to achieve the $25 free shipping minimum threshold. That'd be very easy to do. :) Whenever I need a filler item, I am always buying things for my girls on Amazon, such as hair accessories, barrettes and hair ties.
The shipping is a tad slow on these Eneloop batteries, it says 4 to 6 weeks, so don't order them if you are rush. However, if you don't mind a bit of a wait, then give it a shot.
The "was" price on these batteries is $26.99 and the "now" price is $20.99. That doesn't seem like a huge discount but this is a really good final price for this type of rechargeable battery. Elsewhere, you would be paying $25 plus shipping @ NCIX, $35 @ Dell, the prices hover around that level.
A few stats about these batteries:
You can recharge nearly 2100 times
They maintain up to 70% of charge after 5 years (when not in use)
800mAh type, 750mAh min, Ni-MH pre-charged rechargeable battery
Pre-charged at factory using solar power & ready to use
No memory effect - batteries can be recharged when discharged
Some of these are the reasons I love Eneloop batteries and I have about 30 of them in my battery drawer! Over the last few years, I've been stocking up when I see deals like this, as you really cannot have enough rechargeable batteries. It's the kids – the toys that they get. There are so many that need batteries! My 5 year old daughter recently got a barking dog thingy, and it took 5 batteries in the dog and 2 in the remote. What a battery hog!
(Expires: Unknown)