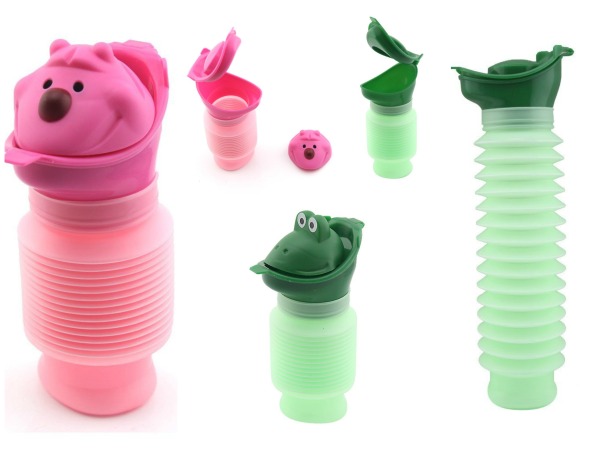 If you have a little boy, then you know the difficulties of toilet training. Whether you teach them to stand up or sit down to do the duty, it can make a big mess. The worst is when you're out and about and your kiddo needs to pee, and there is no bathroom in sight. Worry no more, you can now purchase the Owlfeel Portable Baby Boy Urinal Emergency Toilet for around $10 from Amazon Canada. You will get totally free shipping too.
This Owlfel Portable Baby Boy Child Urinal Potty Bottle Training Car Travel Emergency Toilet Potty (try saying that three times fast) is available at Amazon Canada in two different colours. They are both very close to the ten dollar mark, and they both include free shipping.
So here are the two options when it comes to the Owlfeel portable emergency urinal:
Green - $10.26
Pink - $9.84
I am honestly not sure if I would use one of these with my kiddo, would you? I guess it would definitely be handy in dire situations where you have absolutely no choice, but I don't personally think it would be something I use in my car, in public or in grocery stores like the Amazon Canada listing states. Actually, reading the full details of this item it seems to even come with a 3D bookmark with a horse picture on it? Seems a little random but perhaps you will be reading a book when your kiddo needs to use this emergency urinal.
The urinal easily folds up and stores neatly in your diaper bag, glove box or purse. It is said to be odour free, but I wouldn't let that prevent you from washing it with every use. The green version has an alligator (or perhaps a turtle) head on the top of the bottle, while he pink option looks like i is an adorable little bear. Which one would you choose for your little guy?
This item is shipped and sold by Owlfeel which is a secondary seller, but at least you won't have to spend $25 to get free shipping. This seller includes shipping in your cost, even though it is a low price of just ten bucks.
(Expiry: Unknown)