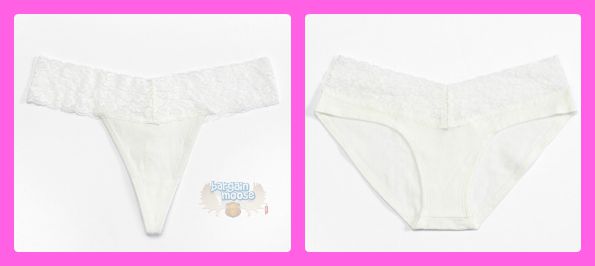 Sexy and comfy, you should grab a few pairs of the Cotton & Lace Hipster underwear over at Garage Canada right now. This underwear was originally $7.95 but have now been reduced to only $3. Apply the coupon codeGARAGE25 and take an additional 25% off your order, dropping the price down to only $2.25!Shipping is completely freewith no minimum at Garage Canada at the moment.
Pretty, pretty for me please! Check out these practical and lovely cotton and lace hipsters over at Garage. These white panties are breathable, sexy and soft. Each pair is 95% cotton with just a touch of spandex for comfort. The top band is a lace detail to give an ordinary pair of panties a little class. You can pick up these panties right now in sizes extra small, small, medium or large.
LaSenza has a sale right now with several styles of $3 hipster style panties. The problem is they want to charge you an additional $9 to ship it to you. La Vie En Rose carries cotton and lace hipster style cut panties for $9.95 or you could pick up $5 pairs for $25. Shipping will cost you  an additional $9.
There is one review for these panties. If you are on the fence about grabbing this purchase, this person seems happy overall.
Comfy! Very soft and comfortable (but it's a little big so it runs up you a bit)
If you are interested in stocking up your underwear drawer, there are a couple other good deals.  The Blue Lace Cotton Thongthat was recently  written about by Avigayil is back in stock. It was $7.95 and has again dropped to $1.50. With the coupon code this thong becomes only $1.13! It is only in size extra small, grab it quick if you want it!
A White Lace Cotton Thong that was $7.95 has dropped down to $3. Once you have applied the coupon code, this thong drops to only $2.25. This one is available in size extra small, small and medium. This underwear is very similar to the featured hipster. Go a little more daring and mix things up with a few of these comfortable and breezy thongs.
What are you waiting for, grab your size now! The added free shipping with no minimum makes this a fantastic deal. Replenish your underwear draw without leaving your house. Replace those pairs that are past their prime with these new pairs. You know the ones, the underwear you probably should have thrown out but still haven't? Throw them out. You have some new sexy undies on the way to save the day.
(Expiry: Unknown)