Do you like Williams coffee stores? OK, there's shedloads of Starbucks and tons of Timmies, and maybe not so many Williams, but if you like it, and it is local to you in Ontario, then you might like this deal. If you join their email newsletters online, you will receive a few good deals straight to your inbox.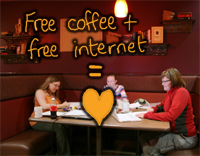 When you join, they will give you one free regular size specialty hot or specialty cold drink! Apparently, they also send you a gift on your birthday, but I don't know what this is yet. When you are signing up, you have to select your favorite William's location, so I don't know yet if they send you out coupons specific to that location, or generic coupons. You should get the welcome message within 48 hours of joining.
I notice on their website that Williams Coffee is offering free wireless internet access in all their cafés. I think this is an excellent customer service option for any café. It would definitely encourage me to eat and drink there.
P.S. If you'd like to see more cool offers which you can get straight to your emails, click the email discounts tag below.
UPDATE 25th March 2009 - I put in a random date when I signed up to this offer. I just got my first "birthday" email offering a free slice of cake! It doesn't even say with purchase, it's a genuine freebie!