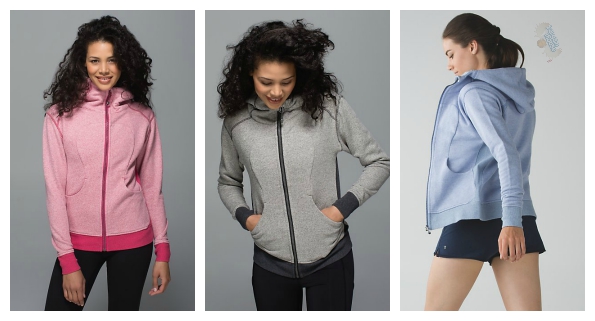 Hoodies were what really made the Lululemon business take off. There was a time, and still is, that I could not walk down the street without seeing an array of cozy hoodies with omega symbols. Also, the traditional Lululemon hoodies rarely go on sale. Currently, Lululemon has discounted their On The Daily Hoodie (Cotton) from $108 down to $79 with free shipping.
I LOVE Lululemon hoodies, who doesn't? They have all the features you want in a warm sweater including a large warm hood, a zipper garage to keep your neck safe, an elastic zipper pull that can double as an elastic, and thumbholes.
The size of Lululemon hoods is big enough for the most unruly mop of hair and you can pull them just down over your eyes: I sleep on planes with my hoodie pulled down over part of my face. I find Lululemon hoodies so comfortable that they have become essential to my travel wardrobe. I always layer up with a hoodie over a t-shirt.
Thumbholes are the best clothing invention in the last 20 years. The thumbholes on the Lululemon hoodie keep your hands nice and warm and also are a great way to keep your sleeves down if you have the bad habit of always pushing your sleeves up around your elbows (that's me!).
This hoodie is made of a blended cotton fabric with soft terry on the inside. It has a relaxed fit and hits at about hip level. Now, this Lululemon hoodie is available in four colour combinations:
heathered black/heathered dark grey
heathered jewelled magenta
heathered silver spoon/heathered light grey
heathered lullaby
The last colour - heathered lullaby - is my favourite of all four choices. It is this soft, baby blue that looks absolutely delightful. The hoodies look to have a waffle-knit pattern. They appear to be incredibly cosy and - from experience - I know they are awesome for staying warm. I used to wear my Lululemon hoodie after swimming. During the winter, it was a great way to stay warm and keep my hair from freezing while I made my way to the car.
Sizes 2 through 12 are still in stock across most sizes. Several colours still have all sizes in stock as well. There is great selection right now so hop on over and score yourself a new hoodie in the lululemon sale.
(Expiry: unknown)