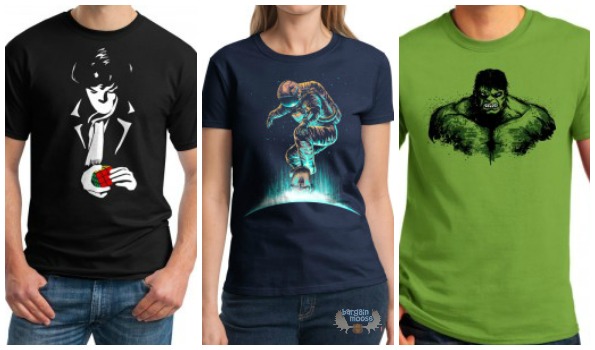 As the great Macklemore says "That shirt's hella dough and having the same one as six other people in this club is a hella don't". Don't be like everyone else paying $50 for a t-shirt and look just like the next guy. Olyfant is a store we have yet to tell you about and we've got 15% off your order with our exclusive coupon code, so come take a look.
Click here to shop @ Olyfant.com now
Coupon Code: BARGAINMOOSE
Discount: 15% off
Expiry: 25th June 2015
Olyfant started off as a store that created fandom tees. Then, they realized that pop culture also sells and they now work with artists from all over the world to create very unique designs. What's even cooler is that you as the consumer can score the latest designs to help decide if they'll be the next to sell on Olyfant. Artists can submit their work and will inevitably get 10% of the sale back into their own pockets. Not only will you get a cool and unique tee, you'll play a part in feeding the starving artists who created it.
Olyfant does ship internationally to Canada, but they do have free shipping on orders over $40. If you just want one tee or to spend less than $40, you'll be charged another $4.95 for shipping, which is pretty reasonable. But, there is always the potential for fees at your door, as you probably already know.
Their shirts are also really inexpensive at only $9.95. With our exclusive coupon code, that price goes down to $8.46. There are also a few on sale, which will bring your price down even more. Unique t-shirts might make awesome Father's Day gifts, as I know my husband loves to wear unique styles.
If you've got someone in your life who likes to bake and is a fan of the iconic show Breaking Bad, then this Baking Bread tee is pretty cool.
With the last name Webster, Spiderman is always a theme in our household. This Web Art tee is quite striking and everyone in my house would fawn over it.
There isn't a huge amount of selection, which tells me that Olyfant really specializes in what they do. As I said above, artists can submit new designs and have them scored, so new styles are always coming available.