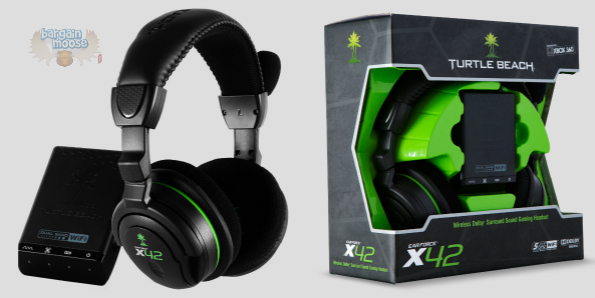 Newegg Canada is selling the Turtle Beach Ear Force X42 Series Headset for just $79.99 with free shipping. That is 50% off the original retail value of $159.99. You will also receive a free $10 promotional gift card for Newegg.ca with your purchase.
Amazon Canada has this headset on sale for $99.99 with free shipping, which is $20 more and does not include a free gift card. Walmart.ca is selling the headset for $159.83 and The Source is selling the headset for $159.99. Newegg Canada's price is not only the best, but the freebie makes it a sweet offer.
This headset featuresDolby Surround Sound Speakers for a mind-blowing auditory experience. The earpieces are adjustable so you can get a good fit on your ears and enjoy the most incredible sound filtered into your ears from 360 degrees. The headset is wireless, no accidentally tripping on your headset wire or pulling your headset off when you gesture emphatically at the screen. The Turtle Beach headset also has 'dynamic chat boost,' making sure you can always hear your team mates while you play games. You can also monitor your own voice with the microphone monitor so you are not screaming at your mates when you get excited. There is no need to break any eardrums.
The headset is designed specifically for the Xbox 360, but would pair well with any console. It does require a digital optical cable hookup to either your Xbox or TV according to reviewers so make sure you have that input available.
Oddly enough, there is only one review for this headset on Newegg and it is negative. I checked over at Amazon because they have a larger pool of reviewers, and the reviews were quite positive over there. On Amazon Canada the Turtle Beach X42 has four 5-star reviews and three 4-star reviews.
Your promotional gift card will be issued four days after you are invoiced for your purchase. Promotional gift cards can only be redeemed online through Newegg.ca and they expire one year after being issued. You do not need to use the entire value all in one purchase, left over credit can be used for another purchase.
I own a Turtle Beach headset and it is very good. The microphone is far superior to many I have tried before and the sound quality is good for the price I paid. For a gaming headset, I have been happy with this brand.
(Expiry: Unknown)