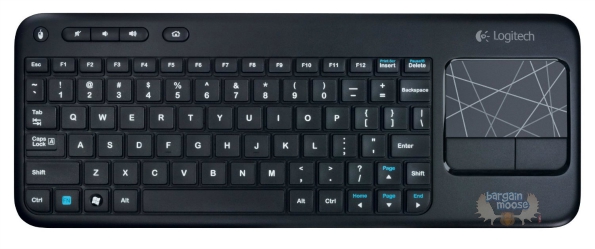 Wireless keyboards with built in track pads are all the rage these days. This refurbished Logitech K400 (920-003070) Black USB RF Wireless Standard Keyboard with built in track pad is on sale from $44.99 down to $19.99. Use the device specific coupon code CEMCAVNN44 to take an extra $5 off your purchase, bringing the keyboard down to $14.99. Shipping for this device is only $3.99 or free if you sign up for a Newegg Prime Trial.
These keyboards with track pads built in are a relatively new phenomenon, but extremely popular with computer and tablet users everywhere. The all-in-one keyboard gives you a full size keyboard to use and a track pad like the one on the bottom of a laptop. This is perfect for computing when you are not near a surface that handles a laser mouse very well. For example, surfaces like glass, carpet, and textured furniture.
These are primarily marketed for off-desk use and use with smart televisions. You can sit on the couch and have full control of your device with the touch of a finger. As the device is wireless, it can be used with multiple devices.
This keyboard has rave reviews with over 180 reviewers. One customer said:
This keyboard works fine and the track pad actually works better the track pad on $1500 laptop. I originally got it for a HTPC (ASUS EEPC) and it worked fine, but then I tried on my Samsung smart TV and it worked straight away. I was surprised because I thought it would need a driver on the TV OS but worked just by plugging in the receiver in one of the USB slots on the back of the TV. Much easier than using the remote to type in text.
He went on to say that the keyboard is an absolute steal at this price when he bought his for around $30. Despite this being a refurbished keyboard, most everyone says the keyboard looks like new and works great. There was the odd lemon in the bunch, but the keyboard has still achieved a 4/5 egg rating on Newegg Canada.
Here is a quick price comparison for the non-refurbished model sold elsewhere:
$29.97 + shipping @ Tiger Direct
$49.99 @ Dell Canada
$29.99 + shipping @ Factory Direct
$49.99 @ best Buy Canada
I have been eying up one of these keyboards for a while. With technology changing to tablets and Smart TVs, there is certainly need for a keyboard and trackpad combo that you can use on all your household electronics.
(Expiry: 28th July 2015)