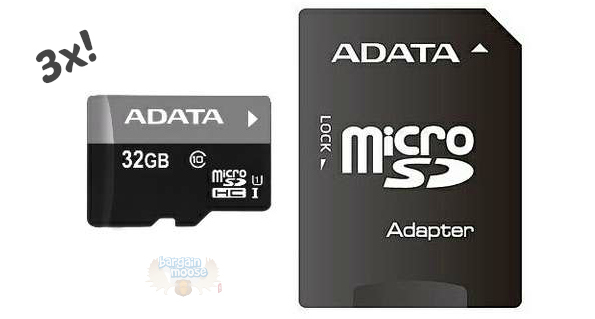 Are you looking to expand the memory in your tablet or smart phone? Perhaps you use a DSLR camera that needs a new SD card. Newegg.ca has discounted a bundle of three (3) ADATA Premier 32GB microSDHC cards (class 10) with adapters. Originally $38.97, the bundle is on sale for $29.99 with free shipping.
Most places do not sell these cards in bundles, thus I calculated out the cost per card and compared that price. These cards cost roughly $9.99 each at Newegg Canada. Here is what other online retailers are selling these cards for:
$12.99 @ Newegg Canada (individual)
$11.99 @ NCIX.com
$16.99 @ Canada Computers
$16.99 @ Tiger Direct Canada (OOS)
$11.05 @ Direct Canada
$12.50 @ Amazon Marketplace
The other key difference between Newegg's price and all the other vendors is shipping. Only Newegg.ca offers free shipping. So while the discount might not seem as substantial given just the cost per microSD card, the lack of free shipping options really makes this a very good deal from Newegg.
These microSD cards are class 10. They offer up to 30MB/s read and 10MB/s write speed. There is a newer version of these cards but the price, as can be expected, is substantially higher.
You might wonder why you need three microSD cards. First of all, many cell phones accept only a microSD card for expanding memory. I know that the Samsung Galaxy III and the Samsung Galaxy IV both use microSD cards for expandable memory. Tablets also tend to use SD cards or microSD cards to expand their memory. My partner has a Dell tablet that can accept only microSD cards to expand the memory to about 4x what the tablet actually comes with.
While I am not aware of any cameras that just take microSD cards, the DSLR cameras usually use standard size SD cards. Happily, this bundle comes with the adapters that allow you to use your microSD card as a standard size SD card. This is useful not only for cameras, but you can also use the adapter in your computer's SD slot for transferring photos and more. This kind of tech is just standard fair in today's technological households.
There is a limit of five per customer.
Note: there is an error in the product description. At the very bottom it mentions 16GB cards, but this listing is for 32GB cards. Someone made a mistake!
(Expiry: Unknown)