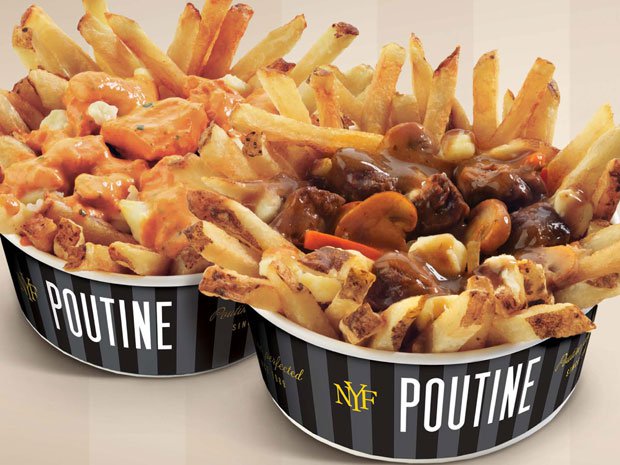 So New York Fries has a fab new promotion right now. If you love New York Fries as much as I do, then you're going to adore this new promotion. For a limited time, you can visit your local New York Fries store and get a free $10 Sears gift card when you buy absolutely anything from the New York Fries Canada menu. The Sears Savings Card can be used for $10 off $25 at Sears Canada. Hurry though, this promo won't last long.
So fill your tummy while you are shopping for items to fill stockings! It is not often that a promotion like this comes up. You can quite literally buy any item off the New York Fries menu and you will get a Sears Savings Card for $10 off your next Sears purchase over $25. You can even make multiple purchases if you want - you get a savings card with every purchase from New York Fries Canada.
I love the Pulled Pork Poutine from New York Fries. That stuff is dangerously delicious. It is to the point where I could order a large size, finish it all and still want more. If you dine with me at New York Fries there is a high chance I will steal some of your food as well. But the idea to reap the best benefits of this particular New York Fries offer is to buy the cheapest item on the menu to get your free Sears Savings Card. Pretty much everything on their menu is under $10, so it is a steal of a deal no matter what your food choice is. Don't forget you can also get a free poutine when you load a minimum of $25 onto your Fry Society Loyalty Card. Free poutine always tastes the best!
This New York Fries offer is valid through December 20th, 2015 but the Sears gift card will be valid between December 1st and December 24th, 2015 only. You can use it in stores at Sears Canada or online at Sears.ca, that choice is yours. Though if you are Christmas shopping, Sears.ca purchases may not arrive in time for Christmas if you are ordering that late.
(Expiry: 20th December 2015)