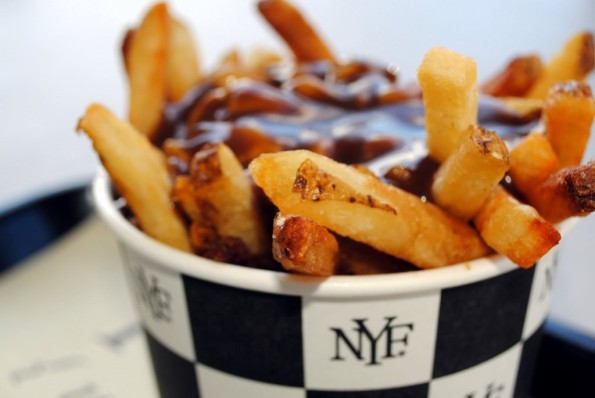 Hey you, New York Fry Society Members, you can get yourself a free small fry and Coke. Want to know how? It is simple. It is a Christmas gift to you, from New York Fries. You will get an email on Christmas morning that will contain this offer. So if you are not already a Fry Society member, then you may want to consider signing up now.
It is super easy to sign up for the Fry Society. Just follow the link provided above and you can register for your Fry Society account. It is super easy with lots of rewards, and it is also totally free. You can earn points to redeem free food, or even send gift cards to your friends.
Every purchase you make when you have a Fry Society Account will earn  you one point. When you have earned 10 points, you can get any item off their entire menu for totally free. Free Pulled Pork Poutine, here I come. Have you tried that poutine yet? It is dangerously delicious. Plus if you preload $25 on your Fry Society Card then you will get a free poutine, which might be your chance to try the Pulled Pork Poutine that I jut mentioned. There are lots of benefits to being a Fry Society Member. You will get a free small fry and free small Coke voucher emailed to you on Christmas day, free regular fries voucher emailed to you on your birthday, special offers, double the point opportunities, and more.
Plus, if you receive this voucher on Christmas day, then you can redeem it on Boxing Day while you are shopping like crazy at your local mall. Most malls have a New York Fries restaurant inside, so you can have a nice snack of fries with a drink of pop while you shop... and you won't have to pay a cent.
I am not sure when your voucher for a free small fry and Coke will expire, but you must be signed up to be a New York Fries Fry Society member before December 24th 2015 in order to receive this offer.
(Expiry: 24th December 2015)