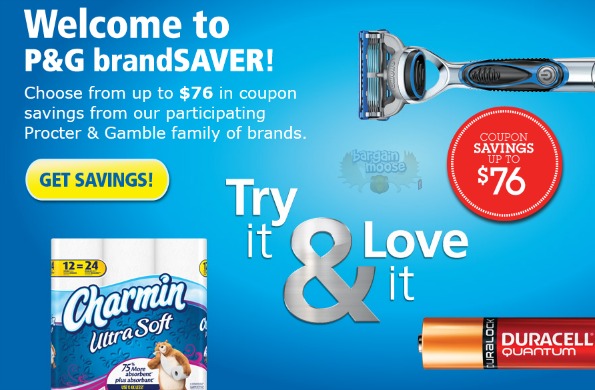 Time for some more big savings on your groceries and shopping trips!  P&G Brandsaver has just released a new batch of coupons for us to send away for absolutely free. In total, this time around you can save up to $75 on your purchases with these coupons.
All of the free coupons offered are P&G products and all of them will be sent right to your mailbox free of charge.
Here is a look at some of the coupons this time around:
Save $1 on Cover Girl products
Save $0.50 on Downy
Save $1 on Duracell
Free Gillette product
Save $2 on Pampers
Save $5 on Swiffer
Save $1 on IAMS
Save $1 on Tide
As always, even though they have a ton of coupons to order, they will only allow you to order 32 at a time.  What I do if I want more than the maximum of 32 coupons is to break up my orders.  They will allow you to get 32 coupons and then order up to 32 more in your next order (just minutes later) to the same account and address.  The only stipulation is that they need to be different coupons.  For example, you cannot get the $2.50 off coupon for Clairol hair dye and then order it again minutes later to get a second one.  The second batch of coupons will need to be different coupons.
The expiry dates for the coupons will all be different.  Some of them will be long term, some will be shorter term and some really good ones could be for just a specific day only.
(Expiry: Unknown)