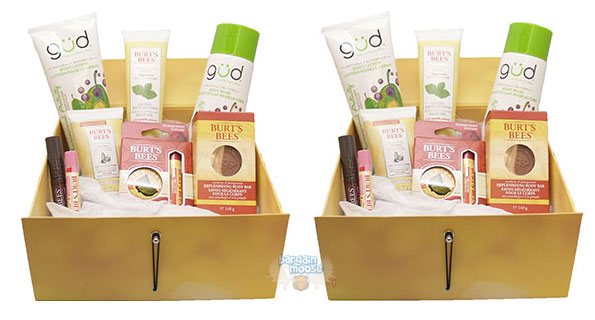 Just in time for Christmas, Burt's Bees has just released their newest grab bag: the holiday one. While supplies last, you can get their holiday grab bag for just $25. It has a value of over $75 and comes with 9 Burt's Bees products, 8 of which are full size.
Burt's Bees' holiday grab bag comes with all of the following products:
gud Pearanormal Activity Body Wash
gud Pearanormal Activity Body Lotion
Cranberry & Pomegranate Replenishing Body Bar
Travel Size Milk & Honey Body Lotion
Starry Night Lip Gloss
Strawberry Lip Shimmer
Bit of Burt's Pomegranate
Peppermint Foot Lotion
Among the contents can be found "bit of Bur's pomegranate". As it turns out, it actually contains two additional products: the pomegranate lip balm and the mini lemon butter cuticle cream. Keep in mind that the gud products are actually a line of organic products produced by Burt's Bees, which contains no parabens, phtalates or petrolatum.
Every year around this time, I buy the Burt's Bees lip balm and there isn't a lip balm that I like more. Although I'm not fan of the pomegranate one because of the strong smell, every other one has been helping to turn my chapped lips from the cold into kissable soft ones! ;)
Speaking of which, I'm most excited about the strawberry lip shimmer included in this grab bag as it has over 15 reviews with nearly 5 stars out of 5, like this review:
Nowadays lip products are packed with harmful ingredients bad for your skin and even the environment such as petrolatum, mineral oil, parabens, propylene glycol and the list goes on. However Burt's Bees lip shimmers finds a way to make great lip shimmers without the bad! It last long, has a cooling peppermint oil effect, beautiful color application, moisturizes and does NOT test on animals! :D
Since shipping is only free on orders over $49 at Burt's Bees, you could either order two of these grab bags -- perhaps one for yourself and one to give -- or you can shop around for more products. In the outlet section, you can save on the following 2 products right now:
If your order doesn't reach the $49 required minimum threshold for free shipping, then a shipping rate between $7.50 and $15 will apply depending on your location.
(Expiry: Unknown)