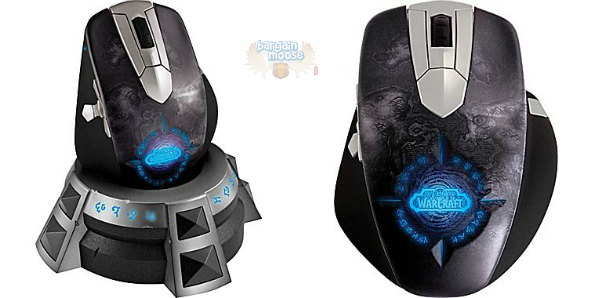 NCIX.com has discounted the Steelseries World of Warcraft Wireless MMO Gaming Mouse from $129 down to $39 with free shipping.
This is the lowest price I have ever seen on this mouse yet. The last time this mouse was on sale, it was $11 more, priced at $50.
I love gaming mice because they have a faster and more accurate response time. You do not need to be a gamer in order to purchase this mouse. If you spend a lot of time on computers (like I do), then you will appreciate the fast response time. This is also a full sized mouse so it is much better for long computing times. If you work from home on your laptop or do a lot of gaming, this mouse will feel nice in your hand.
The mouse uses 2.4GHz wireless technology for excellent response time. Unlike other mice that use disposable batteries that you replace, the Steelseries World of Warcraft uses a recharging stand to charge the mouse itself. Both the mouse and the recharging stand are gorgeous - World of Warcraft really knows how to make beautiful tech.
The mouse has 8200 dpi for excellent response time. For example, the mouse I currently have (Anker) has three dpi levels: 1000 / 1500 / 2000. The 2000 dpi is by far the best response time so I keep the mouse on that setting always. I would love to have a 8200 dpi mouse.
I price compared this mouse with other retailers. Newegg Canada has the mouse for $57.99 plus $12.06 shipping = $70.05 total. Staples Canada has the mouse on sale for $67.49. Amazon Canada sells the same mouse for 85.99 right now. While best Buy Canada does not have the same mouse, they have the wired option (in brown) for $89.99. For your information, the wireless mouse has the option of going both wired and wireless.
The natural free shipping will only last as long as this mouse is currently in stock. If it should go out of stock and yet still be available at this price, then use our exclusive NCIX coupon code for free shipping.
I am trying to spend less money this month, but I think this mouse will be mine. It is aesthetically pleasing, has an amazing dpi, and a charging station - ultra cool.
This deal is for today only.
(Expiry: 6th May 2015)