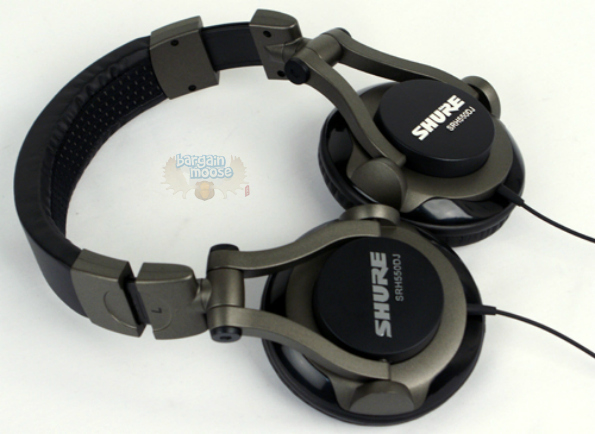 I LOVE this deal from NCIX.com on a Shure SRH550DJ Professional DJ Headphones. Originally $125, this set of DJ headphones is on sale for just $75 with free shipping.
Seriously, this deal rocks. I price compared the Shure SRH550DJ Professional DJ Headphones with other online retailers that carry it. At Amazon Canada, you will pay $125 with free shipping. Electronicsforless.ca and Boss Sound Canada both sell the same headset for $125.
First of all, Shure is a household name in audio equipment. They have been making microphones and more for as long as I remember. You might not have heard of them because their products are professional quality, often used in studios, this they have never made a name for themselves with casual music listeners. However, I am here to tell you now that these are an excellent set of headphones for casual music listening and amateur artists.
I am a bit of a headphone addict, and just paired down my own collection to one lonely headset. However, I used to own the big brother of this headset - the SRH750DJ model - so I can tell you quite a bit about the quality and body of the unit. The frame is sturdy and the cups fold in for compact transportation. Stick it inside the included bag for taking with you.
Enjoy a gorgeous full-range frequency response with enhanced bass. That is not just 'talk' - this baby has bass without drowning out everything else. I remember comparing this headset to my Denon (personal fav) and being quite surprised and the musical 'weight' the Shure brought. Some music I HAD to listen to on the Shure because of their beautiful full bodied sound and good - but not too heavy - bass.
These are a closed back set of headphones and the ear cups are really comfortable. My 750 pair came with two sets of ear cups... I would assume that the 550s do as well. The ear cups swivel 90-degrees so you can store them easily and take one ear cup off while keeping the other on. This is not an extremely light weight headset, but it is very comfortable (lots of padding). I highly recommend them and think this price is extraordinary. If I was not saving up for a pair of Zik Parrots, I would buy this headset in a heartbeat.
(Expiry: 15th July 2015)