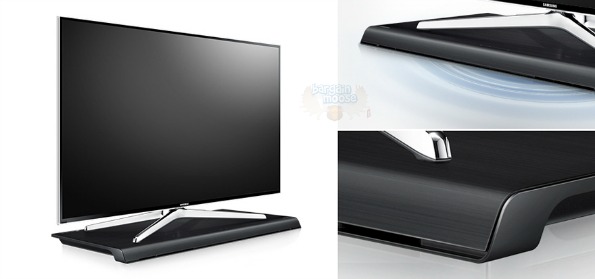 NCIX.com is selling the Samsung 80W HW-H600/ZC Sound Base for $247.99 with free shipping right now.
Now, to be fair, it seems like there is an entire orgy of sales on the Samsung sound base this weekend. Prices are similar across the board but that does not mean this is any less of a deal. Future Shop and Best Buy Canada both have this sound base on sale for $249.99 but Future Shop only has 23 left and Best Buy only has 18 left. As both those stores start their deals on Friday morning, I think it is significant that they are already down to low stock at this sale price. The Source is also selling the base at $249.99 but does not show their stock levels.
Either way, you save an extra couple dollars ($2!) by purchasing the sound base at NCIX instead of the competitors. Overall, you save around $200 on the base this week compared to any other week so no matter where you buy, now is the time to get it. I also compared the base with TigerDirect's prices. They have the base on sale for $395.99. That is a big price difference.
Now, for why everyone who owns a TV needs something like this. This is a sound base, so you put it beneath your TV like a stand. The sound comes up from beneath your TV and fills the room far better than conventional television speakers. This one is equipped with Bluetooth allowing your TV to communicate wirelessly with the speaker (without the use of HDMI cables) and allowing you to control the speaker via your smartphone. You can also hard wire the sound bar into your TV if your current television is not Bluetooth compatible. At only 35mm thick, the bar is super-thin, yet it will hold up to 77lbs and fits most TVs up to 66" big. As for features, this reviewer summed them up well:
Bluetooth --- YES
NFC --- YES
Anynet+ --- YES
Audio Input --- YES, 1 input
Optical Input --- YES, 1 input
HDMI Input --- YES
Surround Sound Expansion with 4 Sound Modes
You can use the Samsung sound base to not only watch movies with far better acoustics, but to also stream music from your smartphone, iPad, or other Bluetooth enabled audio device.
NCIX.com is offering free shipping on this unit right now. If they are out of stock when you check, then you can pick up the unit for a couple dollars more at a couple of the places I listed above as long as they still in stock.
(Expiry: 23rd October 2014)