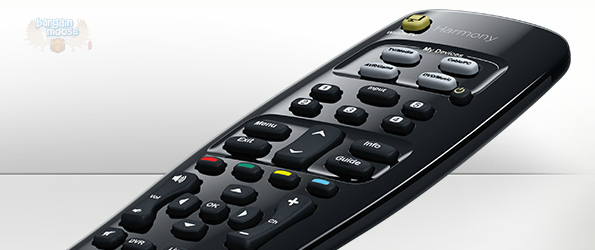 NCIX.com's deal of the day is rather sweet. The popular Logitech Harmony 350 Remote Control is on sale from $49 down to $34 with free shipping.
Here is a price comparison to put your little deal hunting minds to rest. The Logitech Harmony 350 retails for:
$49.98 @ Walmart Canada
$49.99 @ The Source Canada
$49.99 @ Best Buy Canada
$49.99 @ Logitech Canada
$49.99 @ Crutchfield Canada
The controller is out of stock at Newegg Canada and Tiger Direct does not sell the model. I checked out Amazon Canada but Amazon itself does not sell the remote control. Rather, you can find it for $52.99 plus shipping in the Amazon Marketplace.
This deal is available for today only. The remote qualifies for free shipping but that will be negated should they go out of stock. In that case, try using our exclusive NCIX coupon code for free shipping on $25 or more. That should fix the problem should this deal become back-ordered.
This device is the couch potato's ultimate companion. Through the Logitech Harmony remote control, you can combine and control up to eight remotes into one unit: the Logitech Harmony. This means you can control your TV, cable or satellite box, DVR, Blu-Ray player, sound system, and more all from one controller.
The Logitech Harmony 350 Remote Control is one incredible unit. It is compatible with around 270,000 devices including these popular electronics:
Xbox One
Sony Playstation 3
Apple Macbook Air
It is very simple to determine if the Harmony is compatible with your devices. Simply use this compatibility search here to input the manufacturer and model number or product name of your device. I searched for the PS4 and it is not supported by the Harmony. That does not really bother me because the PS3 is supported.
I bought a PS3 remote control a few years ago because I am more adept at a remote control than I am at the controllers. Back when I purchased one, they were hard to find under $20. Now they retail around $15. An Xbox One remote will cost you $24.99 alone. However, the Harmony can control all these devices without having a plethora of remotes lying around. One reviewer said:
great no nonsense remote control.works very well and easy to program

Another reviewer wanted to remind people that this is an entry level remote and it lacks a few of the bells and whistles he would like.
(Expiry: 10th May 2015)