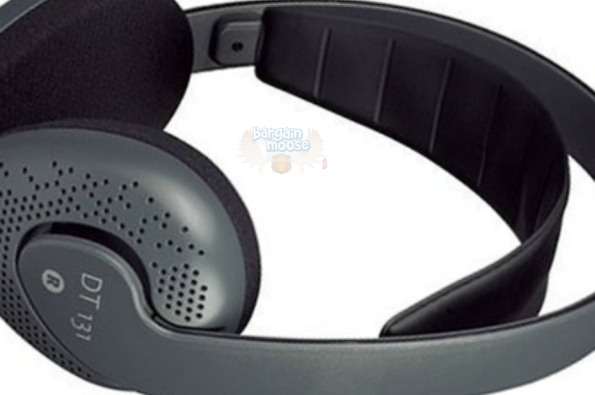 NCIX.con has an excellent deal on these Beyerdynamic DT131 Trendline Stereo Headphones. Originally $69, this set of headphones is on sale for just $14 with free shipping, no minimum required.
This is an interesting little headset deal. The headphones have an open design and quite lightweight construction - weighing in at only 130g. They have a natural, transparent sound that works with surround sound. According to the website, these headphones are considered 'high fidelity' headphones that are good quality and rugged: they can withstand a few knocks. The headphones come with soft cotton jersey ear pads.
These are a truly affordable pair of headphones - especially at this sale price. For $14 you receive a set of headphones with an impedance of 40 ohms and a frequency response of 20 Hz - 18,000 Hz. The single-sided cable is tangle resistant and spans 2.5 meters long.
I would be remiss if I did not mention warranty and serviceability. All parts on the headphone are replaceable, which makes for easy servicing when you send the headset in under warranty. That warranty lasts an entire two years. I actually think this is an incredible deal as your headset can remain in tip-top shape for two years, complements of the manufacturer, and you are paying so little for the headset in the first place! $14 for two-years of warranty service on top of a brand new headset - fantastic!
I did some research to ensure that you were receiving a good deal. Amazon Canada sells the exact same headset for $60.49. That is both sold by and fulfilled by Amazon, it is not a secondary seller. VIPMP.ca sells the same headset for $64.99. I also found this headset at a bunch of US stores. For example, Head-Fi sells the same headset for $59 USD.
I think this is the perfect deal for Moosers on a budget. You save $55 off the original price and are given a long enough warranty to keep your new headset in great condition. With free shipping and only $14 out of pocket, you would be remiss to not pick up this headset deal. Free shipping lasts as long as the headset is still in stock. Limit of one per customer.
(Expiry: 8th July 2015)