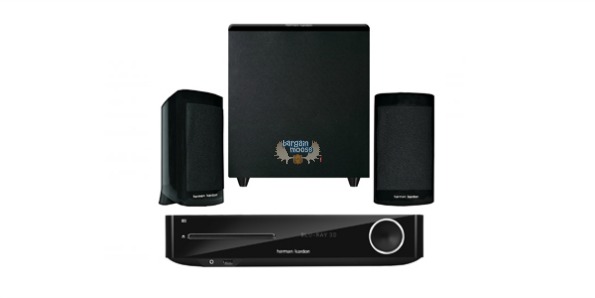 I found an absolutely fantastic deal on the Harman Kardon BDS277 2.1 Channel Integrated blu-ray receiver with HKTS5 2.1 speaker package. It is originally priced at $1,299.99 and the price is now only $399.99. That's a savings of $900!
NCIX comes up with the regular price with both components priced separately - the receiver for $997.99 and the speaker system for $297.99. I took this information and put on my price comparing hat. Here I found a similar set at Amazon for $968.79. Costco had a similar set with different speakers on for $649.99. Nowhere came even close the low price of $400.
NCIX has absolutely no information about this set on their site, so I look elsewhere to find out a little more about this package. Basically, the receiver is an all-in-one system with music streaming, access to online content, ability to connect with Bluetooth devices, a 3D-capable Blu-ray player plus so much more. If you want the full details from the source, check out the Harman Kardon site.
I couldn't really find any reviews out there on this system. This is something I could totally use. I have no interest in spending over $1000 on any electronics for my home, except maybe my computer and even then, I'm kind of cheap. I spend a lot of time reading and do watch the occasional movie, so spending a lot just doesn't suit me. But, for only $400 I can do so much with this device, including streaming my music, which means I no longer have to listen to Pearl Jam on my crappy laptop speakers.
As another bonus to this hot deal, you'll get free shipping! This item weighs 30lbs and that could cost a lot to ship, but lucky for you, you don't have to worry about that!
I don't know the expiry on this deal, but I assume it will sell out quickly, so it will pay not to wait.
(expiry: unknown)