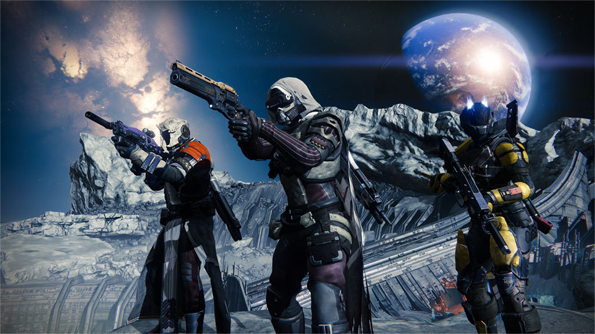 Fellow gamers, I found a pretty sweet deal on NCIX that I'd like to share with you - it's for the ever-popular video game Destiny for the Sony PS4 system. This title was just released recently, and now you can save $20 off the retail price! You can now purchase Destiny for the PS4 for only $49.99! It normally costs $69.99, so this is a nice deal - especially if your child has this on their Christmas list! You'll also get free shipping with your order, which is always a nice bonus!
Destiny for the PS4 video game system has quite the following - it came out amid much fanfare, and actually looks really cool! One of my friends was literally counting down the days for this game to be released, and he would constantly tell me about how much he looked forward to playing it. In fact, he actually booked a day off from his workplace to play the game on the release date! He anticipated Destiny so much that he pre-ordered the game from EB Games and picked it up during its midnight release. Now that's dedication!
This is definitely one of the most popular PS4 games of the year. Many PS4 owners would love to get their hands on this exciting game during the holiday season, so this deal at NCIX is pretty convenient for those who plan to buy this game anyways.
If you wanted to buy Destiny for the PS4 at Best Buy, it would cost you $69.99. I've included a snippet of a review of this game from Playstation Official Magazine Australia below:
Videogame worlds are rarely this rich and addictive. No matter your pleasure - story-based campaigning, co-op comradeship, or adversarial annihilation - Destiny delivers on all fronts.
Quantities are extremely limited, so get this deal while it's still available! Happy hunting, Bargainmoosers!
(Expiry: Unknown)