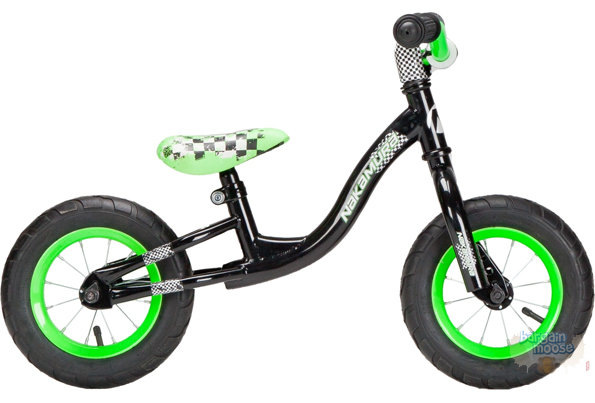 Over at Sportchek Canada, there's a super price on this little Nakamura Runner Boys 10" 2014 Bike. The regular price is not stated on the Sportchek site, but you can pick up the bike for only $47.99 which they say is a 20% discount.
Then, you can use our exclusive Bargainmoose Sportchek promo codeFSMOOSE0614 to get free shipping on any order with no minimum spend. That's a further saving of $14.95!
While they call this a "boys" bike, I would have absolutely no trouble using this for either a boy or a girl. The colour scheme does not matter at all, my four year old would love it! I think that colour of green is quite generic.
This type of bike is what I would call a "balance bike." I've never used balance bikes myself or with my kids, they didn't seem to exist when I was young. They've definitely become a lot more popular these days. Apparently, they get the kids used to the balance of a normal bicycle, without the child developing the reliance on stabilisers.
I recently got my daughter a pedal bike which is a similar size to this, but we've had to put stabilisers on it in order for her to be able to use it. It was given to us for free so I'm not quibbling… but I'd much rather have had a balance bike to get her used to that mechanism.
Canadian Shipping
If you're new to the Sportchek site, you could alternatively sign up to their emails here and get a coupon code for 10% discount on your first purchase. Obviously, if you're only buying this balance bike on its own, then that would only be a saving of $4.80… so the free shipping code works out better in this case. But, if your order happens to be going higher than the $150 mark… you'd be better signing up and getting the 10% coupon code.
(Expiry 5th August 2014)