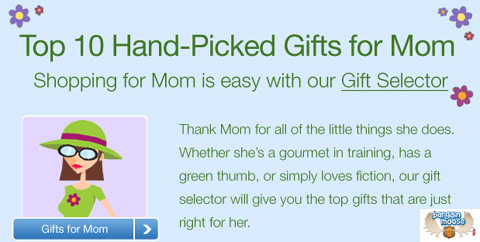 As Mother's Day is coming at the start of next month, I have been doing a few posts with special deals and ideas on this topic, all tagged with Mother's Day gifts. Here's another handy tool which I just spotted on the Chapters Indigo website.   It's a gift finder to help you find an appropriate Mother's Day gift.
They've grouped moms into a few categories, such as big reader, proudly Canadian, click lit, jokester, green thumb, fab foodie, historian, Hardy Boy meets Nancy Drew, entertainment junkie, big thinker, sci-fi- tastic, and zen to zamboni. You can have a browse through the categories and see if there are any great gifts for your mom.
While this isn't exactly a hot deal post in and of itself, I still think it is a handy tool for those of you trying to find a good gift for mom for Mother's Day.
Remember, if you are making an online order at Chapters Indigo, you will get free shipping on a $39 spend.