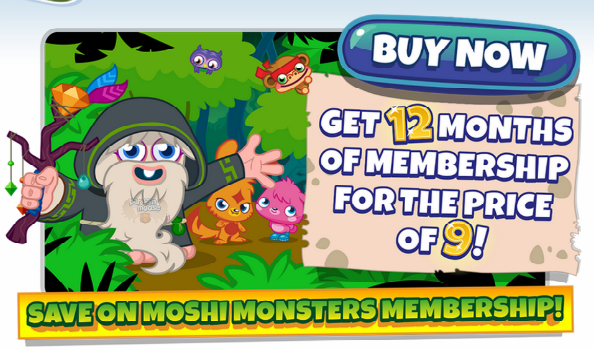 Make the most out of your monster adoption with a paid membership from Moshi Monsters!
A paid membership is $5.95 a month, but if you sign up for twelve months you get it for $49.95 (about 20% off) or six months for $39.95 (about 25% off). When I clicked to sign up there was another deal that was $11 for three months, but it was one of those "click now or it's gone" things so if you see it, grab it. It's about 40% off.
I've got to admit, this was a weird deal for me to write. More accurately, it was a weird deal to research. To really find out what MoshiMonsters is, you kind of need to sign up for a free (we'll talk about free in a minute) account and play around. It's just that MoshiMonsters is completely kids oriented. When you sign up, it asks you for your parents email. Then the activation email comes in and it asks if your child is a boy or girl and their age. I'm here signing up my "child" and I'm telling it that I'm a 28 year old boy. Very weird.
Once you're in there though, you see that it is really geared for kids. You have to take care of your monster. Feed it, keep it happy, decorate its house. You can play games, some of which help work on spelling and counting. You can even get a pet. Most importantly, it's a safe place for your kid to play online. You can do this all for free, but a paid membership offers a lot more for next to nothing.
The paid membership gives you access to more options like adding rooms and customizing your house, access to new areas including a gallery to show off your child's art, a place to change your monster's colour, and tons more. Check out all the extra features that come with a paid membership and some info for parents on why a paid membership is best!
(Expires: Unknown)