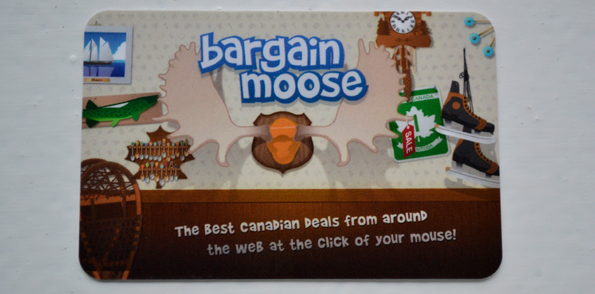 Business cards are quite an important thing. When you meet someone new, they instantly say a little bit about you and your image. That's why when I order business cards, I ALWAYS order them from Moo.com who offer some fantastic options. And just now, they're offering totally free shipping to Canada, with no minimum spend required whatsoever – by using the link below.
If you were interested in placing an order, now would be the perfect time to do so, without having to worry about international shipping and handling fees. When I went through checkout for a test order, it stated:
Printed and shipped in 4 business days, sent by standard delivery
So, even though your items will ship to Canada from the US, that's still pretty fast. It may take a little longer to get to you, but it's worth the wait.
When I last placed an order, I got some rounded-edge glossy business cards, with the Bargainmoose logo on the front and my information on the back. I've pictured them in the photograph above – aren't they lovely? Well, the photo doesn't really do it any justice… but when I am at conferences and give these business cards to people that I meet, I almost always get a compliment on the quality of the business cards. Moo.com is my retailer of choice when it comes to business cards.
But did you know that Moo.com sell more than just business cards? They also sell minicards, flyers, postcards and stickers. I even bought my business card holder from Moo.com, this leather and brushed steel model. It's also really stylish.
Taxes & Customs Etc
When going through checkout, you are only charged the cost of the items themselves. And shipping is free, as per the post above. There's a small chance you may get hit at your door by extra customs, duties and taxes, as these are not taken at checkout. So, if you are placing an order, definitely consider keeping it small, or making multiple small orders, to try and prevent paying any extra fees.
My last Moo.com order was over $150 and I ended up paying an extra $23 at the door. I did not mind at all, I knew the quality of the products from previous orders and I really wanted them.
If you're interested in more international stores from which you can place an order and pay no shipping costs at all, check out our page here!
(Expires 19th October 2014)