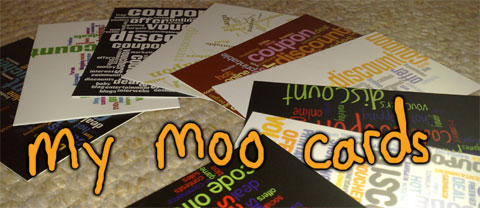 Moo.com has a new deal on some free business cards! They are offering us 50 free cards, and we only have to pay the shipping fees.
If you only want to try out 10 free cards & free shipping, then do so in this Moo.com deal post. If you'd like to try 50 free cards, then follow this link:
For the 50 free cards, you have to pay the shipping and handling fees. As with all the sample cards, there is a little bit of Moo.com advertising on them - I don't blame them for this!
On my test order, shipping to Canada was showing at $7 for the pack of 50 cards. So this means it is technically costing you 14c per business card.
I love Moo! I really do!
A while back, I ordered the pack of 10 free business cards, to see what the quality was like. They were really excellent, as I mentioned in the updated post itself. I went on to take advantage of a 15% free shipping offer, and ordered myself a few hundred business cards. Check out my business cards here. I'm so pleased with them, they are excellent cards, and will last me quite a while as I don't give them out very often!!