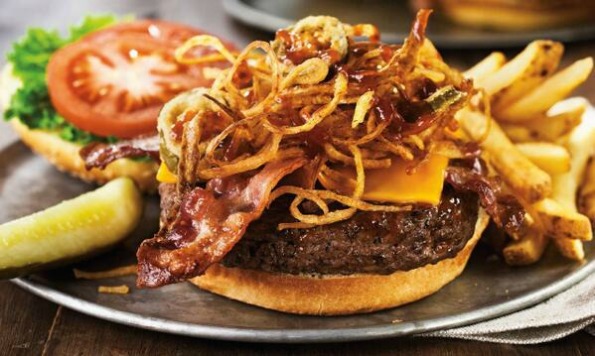 I just love Montana's BBQ & Bar. I would say I probably dine there about once a month for my regular girls' night. Sometimes I cringe at the thought of spending that amount of money on food (being frugal minded), but right now Montana's Canada has a coupon offer that will cure that guilty feeling of dining out. For a limited time, you can use this print coupon so 2 can dine for just $19.99 at Montana's BBQ & Bar.
This Montana's Canada 2 Can Dine For $19.99 offer applies to the purchase of regular size burger and sandwiches, except for the Steak Sandwich unfortunately. But Montana's Canada has so many delicious burgers and sandwiches to choose from that you surely won't be disappointed. While this offer is only valid until November 1st, I am sure you can squeeze some time to get to a Montana's restaurant before then. Burgers would normally cost between $11.49 and $14.49 while sandwiches can cost between $13.49 and $15.99.
So the fine print says that there are no substitutions allowed, which is pretty common for a Montana's coupon. Add ons are extra of course, and this coupon is valid on Dine-In purchases only. Just be sure to present the coupon to your waiter or waitress prior to making your order. Oh ya, you are also limited to just one coupon per table per visit to your local Montana's Cookhouse Restaurant.
I have been wanting to try the Chipotle Firecracker Burger for a little while now. It sounds quite delicious! It is regularly priced at $14.49, so if you and your friend order that using the 2 Can Dine for $19.99 coupon, then essentially  you are getting these gourmet burger meals for just $10 each. The Chipotle Firecracker Burger (as pictured above) sounds like it would be a delicious, juicy burger topped with bacon, cajun onions, cheese, crispy jalapenos as well as Chipotle Honey BBQ Sauce. Sounds good, right? There are quite a few burger and sandwich options that can be used with this coupon offer though, so take a look at the Montana's Cookhouse Canada menu.
The great thing about Montana's BBQ & Bar print coupons is that you don't actually have to print them. You can just show them on your mobile device if you prefer to save the ink. And we all know that ink can get quite costly anyway.
(Expiry: 1st November 2015)