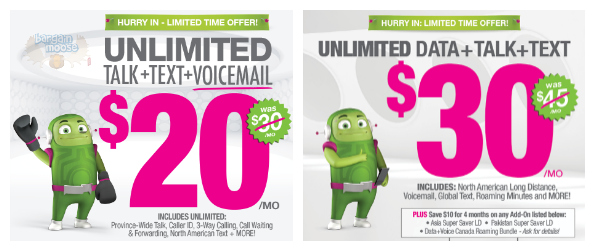 Mobilicity has a couple very interesting plans out right now. First, spend just $20 (reg. $30) per month for unlimited province wide calling (and more). If you need a bigger plan, then pick unlimited Canada wide calling for $30 per month (was $45).
The idea of only spending $20 per month on my cell bill is very appealing. The $20 plan includes:
Province-Wide Talk
Voicemail
North American Text
Caller ID, Call Waiting & Forwarding, 3-Way calling
North American Picture Messaging
You get all that for a $20 bill per month. However, you may notice one key thing missing - data. There is no data included with this plan. To add on data would cost $10, so you would be better off stepping up to the $30 plan. However, for those who do not need data (like my father) and who do most of their calling in province (my father), this plan is an inexpensive alternative to other companies.
If you are like me and could not bear to part with your data, then you should go for the $30 plan instead. This plan includes unlimited:
Data
Canada-Wide Talk
Text
North American Long Distance
Global Text
30 Minutes North American Voice Roaming
Voicemail, Caller ID and Call Features
For an extra $10 a month, you can get unlimited talking across Canada and unlimited Data (up to 5GB I think before things slow down). If you have friends or relatives in other provinces (like I do), then this is the better plan. While I love the idea of paying $20 per month, no data is a total deal breaker for me. I would gladly pay $30 per month just to have unlimited data. With Canada wide calling, I can call my friends and family in Alberta when I live in British Columbia. I guess Canada-wide calling is also a necessity for me as my parents live in a different province. Trust me; your mother does not want to hear "Sorry Mom, can't call you. My phone plan doesn't cover your region."
We have seen this deal once before - for Christmas. It was $1 cheaper back then, but with the New Year, many prices have gone up. For only $1 more, this is a fantastic cell plan. I am paying $45 per month for fewer features! If Mobilicity services your area, consider switching and taking advantage of their great cell deals.
(Expiry: 31st March 2015)